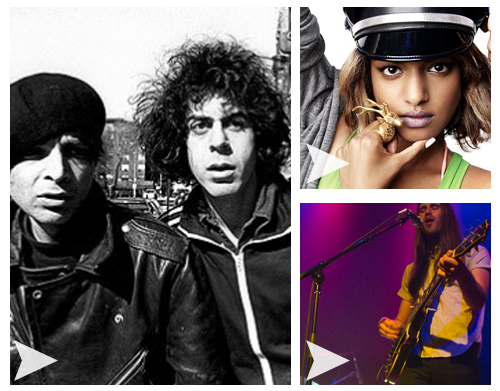 In the rap world, sampling a song is essentially like doing a cover of it. So when shock jock rapper, M.I.A sampled "Ghost Rider" from the synthpunk rock band, Suicide for her single, "Born Free," it's her way of showing respect to a song she likes.
| | |
| --- | --- |
| | |
| Serving #1:Ghost Rider by Suicide | |
The original "Ghost Rider" is a steely, screeching power synth jam by electro duo, Alan Vega and Martin Rev. The twosome were highly influential in the '70s, and had created the foundation for what techno music would become. M.I.A.'s single heavily samples the rip roaring intro riffs for her controversial jam, "Born Free."
In true M.I.A. style, her take on things includes saucily whipped vocals that sing politically driven lyrics. The song is a tidal wave of snarling reverb sucked into a vortex of smashing drums. M.I.A.'s voice sounds like it's coming from a radio with poor reception, as she sings "You could try to find ways to be happier/You might end up somewhere in Ethiopia/You can think big with your idea/You ain't never gonna find Utopia."
| | |
| --- | --- |
| | |
| Serving #2: Born Free by M.I.A. | |
In "Born Free," M.I.A continues her outspoken stance against violence and genocide. The single's nine minute long video shows the brutality of violence, as audiences can watch scenes that depict a SWAT team rounding up redheads in a town, and shoving them into a bus to be shipped to a concentration camp where they are shot. M.I.A has received significant criticism for the video, and she has asserted that it is an artistic representation of the cruelty of genocide.
However, for those of you who like political messages delivered with a sunnier disposition, be sure to check out indie band, Guard, who covered "Born Free."
| | |
| --- | --- |
| | |
| Serving #3: Born Free by Guards | |
The up-and-coming group is relatively unknown, but gained some recognition last year for their opening for the Cults. Their cover of "Born Free" makes the song sound more like an uplifting anthem to a hot and wild summer.
In the end, the message is clear to us: we were born free.
---

Yohana Desta is currently obsessed with Butch Cassidy and the Sundance
Kid, everything Dave Grohl does, and listening to Arctic Monkeys on
repeat.
All author posts