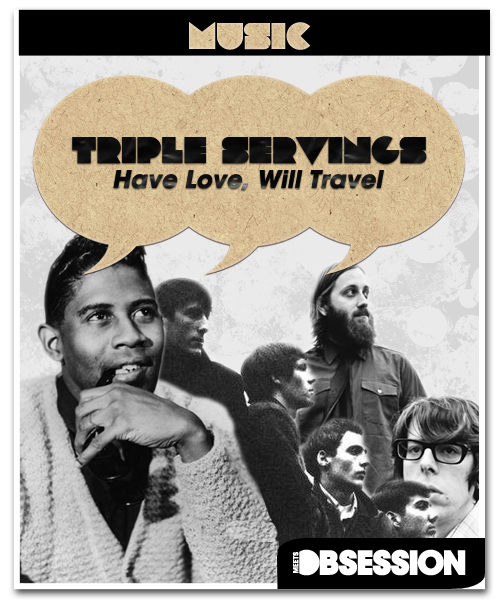 I have declared that this week to be the week of the Black Keys. The Ohio-based duo has been crafting raucous and wonderful blues rock for years, finally breaking through with the surprising popularity of their sixth studio album, Brothers.
This week, they've released their latest album–the gloriously upbeat El Camino, which sees the return of producer Brian Burton (better known as Danger Mouse and the mastermind behind Gnarls Barkley, Broken Bells, Gorillaz and Beck).
 …………………………..

  

…………………………..
Thus, it's only fitting that this week's Triple Servings, featuring the remade track, "Have Love, Will Travel," is dedicated to this rock'n'roll duo.
In 1959, doo-wop R&B singer, Richard Berry released the track "Have Love, Will Travel." While Berry's name isn't instantly recognizable, his work speaks for itself–he's the original writer and performer of the song, "Louie Louie." (And I dare you to tell me you've never heard of that song before.)
The song received an electric makeover when garage rockers, The Sonics covered it for their 1965 album, Here Are The Sonics.
Through the electric guitars and pounding drums, the lyrics change and become more aggressive. Lead singer, Gerry Roslie's voice is perfection, as he goes back and forth between simple singing to playful screeches.
When the Black Keys got their hands on the same track, the song was amped up a bit, and featured blues-style guitar strums and a snarling guitar intro.
The song was released on the band's sophomore album, Thickfreakness; and you can tell that this is vintage Keys because it sounds a hell of a lot more raw and much less polished.
Lead singer, Dan Auerbach sings with his signature thick wavering voice, which seems caught somewhere between a croon and a wail.
---

Yohana Desta is currently obsessed with Butch Cassidy and the Sundance
Kid, everything Dave Grohl does, and listening to Arctic Monkeys on
repeat.
All author posts