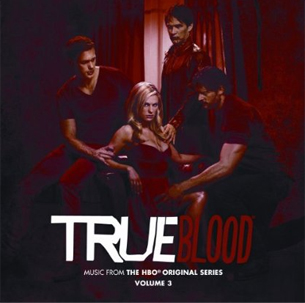 While the official True Blood volume 3 soundtrack won't be released until September 6, fans, for now, at least can see who's on the track list.
The album features 18 songs that range from southern rock and blues to psychedelic melodies that are sure to creep you out in many fantastic ways.
Artists like Blakroc, Siouxsie and the Banshees, Neko Case and Nick Cave,  PJ Harvey, Paper Pilots, Massive Attack, and Jace Everett (who wrote the show's theme song, "Bad Things") along with several other talented musicians are featured on this latest soundtrack that will not disappoint fans!
In the meantime, you can enjoy Black Rebel Motorcycle Club's rendition of "Bad Things" that's also on the album, here.
True Blood – Music From the HBO Series – Volume 3
1. "Season Of The Witch"  –  Karen Elson featuring Donovan
2. "Me And The Devil" –  Gil Scott-Heron
3. "Te Ni Nee Ni Nu" –  Slim Harpo
4. "She's Not There" –  Neko Case and Nick Cave
5. "Hitting The Ground"  –  PJ Harvey and Gordon Gano
6. "Spellbound" –  Siouxsie and the Banshees
7. "9 Crimes (Demo)" –  Damien Rice
8.  "Cold Grey Light Of Dawn"  –  Nick Lowe
9. "Hell's Bells" –  Cary Ann Hearst
10. "Gonna Be A Darkness"  –  Jakob Dylan and Gary Louris
11. "What You Do To Me"  –  BlakRoc
12. "Paradise Circus" –  Massive Attack
13. "And When I Die" –  The Heavy
14. "Bad Things"  –  Jace Everett
Digital Deluxe bonus tracks
15. "Bad Things" – Black Rebel Motorcycle Club
16. "She's Not There" – Dick Isreal And The Soothsayer
17. "She's Not There" – L'Avventura
18. "She"s Not There" – Paper Pilots
---

Saron is a writer and student born in Ethiopia and raised in Washington, DC. She is incapable of keeping a phone for longer than a few months, exclusively wears Miss. Dior Cherie, and her guilty pleasures include any novel written by V.C. Andrews (don't judge), Essie's "Little Brown Dress", and Stoli. She is currently obsessed with the poetry of Edmund Wilson and The Arctic Monkey's latest album "AM".
All author posts