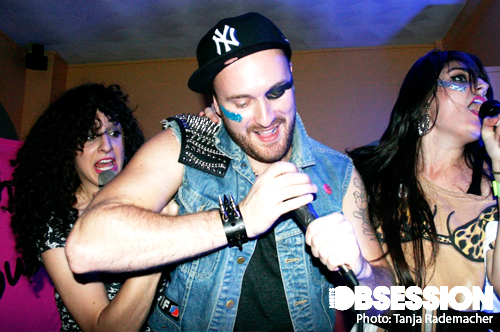 To celebrate the end of daylight savings time, last week, Brooklyn's electro-dance band, Tayisha Busay took over D.C's "The Islander Caribbean Restaurant & Lounge" with the help of two local queer and lesbian social media sites, WhereTheGirlsGo (WTGG) and LezGetTogether.
The event—which sold out several hours before the doors opened—could best be described as "glitter-tastic"  said WTGG writer Christina Cauterucci to Meets Obsession magazine.
While Tayisha Busay has "earned a reputation for toting copious amounts of glitter, as seen in their first music video in which they drink and puke the sparkly substance," (as stated in their bio), the staff of WTGG brought their own. Each guest was greeted with a handful of brightly colored confetti and glitter hairspray; and some partygoers returned for a second helping of glitter spray while others requested to "do their own hair," reported Cauterucci.
Though the band only played for 40 minutes, the diverse crowd danced like the world was ending. The audience sang along to Tayisha Busay's most popular songs, "WTF You Doin in My Mouth" and "Bashy Face."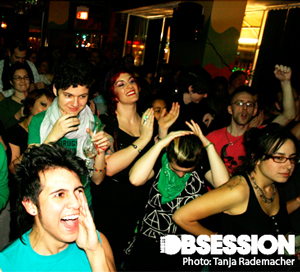 The only downfall to their performance was the literal fall that the restaurant's flat screen TV took during the show. Luckily for everyone, (specifically the band's DJ, Brandon, who'd been playing questionably close to the appliance), no one was injured. On the band's blog, they affectionately referred to this incident as "rock and roll at its finest and…a great highlight of [the] tour thus far."
At the end of their set, an eclectic mash-up of top 40s, old school throw backs, and even a couple indie rock songs set the stage for a glittery dance party that lasted until the wee-hours of the night.
The creator of LezGetTogether and a promoter of the event, sums it all up a "Wow… Tayisha Busay rocked it… I think just about everyone walked away from the Islander that night feeling like they had a great time… Perhaps additionally wondering if the glitter would wash out before work on Monday. Every rose has its thorn, I suppose."
Cauterucci concurred. "I'm just going to say that it was an engaged, fun-loving, attractive and glitter-covered crowd. I think 90 percent of DC's lesbians were there, and we had a great time."
The three band members, Tessa, Ariel, and Brandon, have built up a large following since their EP "Shock-Woo!" debuted in 2010. Along with touring aside the band, JD Samson's MEN, they've played multiple shows in D.C. over the past year, including the fifth annual Phasefest in September.  Their first full-length album "Focus/Virus" was released in August.