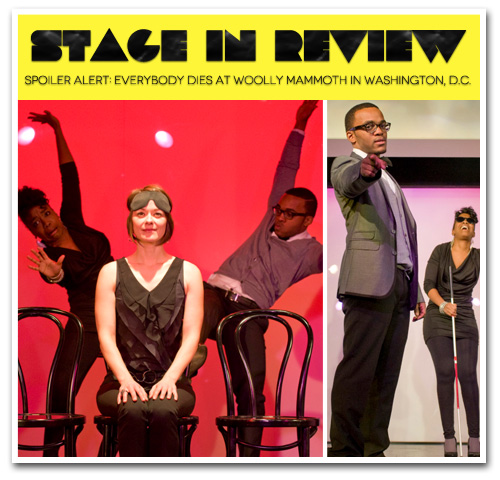 We can all use a little funny in our lives. After all, the holidays are upon us, and that pretty much means we're going home for Christmas—and as the story goes for most of us—it ain't exactly like the Brady Bunch special.
So we laugh when our mother-in-law tells us we're fat, and our recently divorced parents give us their alibis. We're just grateful for our brother, the black sheep who accidently burned down McDonalds and who provides us with hours of amusement, as well as the boxes of booze that Uncle Jack brought.
Life is fleeting, so we might as well enjoy it, at least, this is according to the theme of the latest Second City production, Spoiler Alert: Everybody Dies.
Improvisational comedy group Second City, that spurred the talented likes of Amy Sedaris, Mike Myers and Tina Fey, returns to Washington, D.C. to bring a little joy and dark merriment for the holidays.
Their formula is pretty simple: Be funny, and develop funny shit. And for the most part, the production accomplishes this task with skits that include a horseman whipping his horse to death, some race humor about why only black people can use the N-word, and (because it's D.C.) some Obama jokes. Like most Second City productions, audiences also played a role in the fun, as some members of the troop listened in on conversations of those in the audience for a skit about identity profiling and airport TSA agents.
However, the production struggled a bit with enforcing its dark theme, as some of the skits could have been edited out to make a tighter show; and at times, it felt as if some of the skits were not anchored to any theme, and could have been randomly featured on any episode of SNL.
In comparison to its other shows, "Spoiler Alert" isn't the strongest showing for Second City. However, it is supported by a talented and enthusiastic cast that sings, dances (sort of), and makes good on their promise of making us laugh.
In the meantime, sit tight everyone, the apocalypse is coming and we're all going to die. (For those of you in cities that can still afford it, trusty 911 is still on standby.)
Merry Christmas!
Spoiler Alert: Everybody Dies is written and produced by The Second City theatre company and will run now through January 8th at the Woolly Mammoth theatre company in Washington, D.C.
Tags:
Second City
,
Stage In Review
,
Woolly Mammoth Theatre