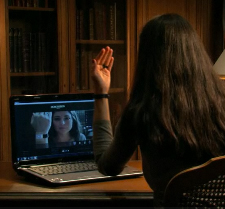 Online shopping — we all love it, even though it comes with its risks.
Ever order something that looked great online, but not great on you?
Now, Boucheron jewelry, a luxury Parisian brand of glamorous watches, bracelets, rings and more is solving that problem with myBoucheron, their answer to your online, jewelry shopping woes.
Simply choose the item of jewelry you want to try on, and print out the accompanying symbol. Cut out the graphic and wrap it around your wrist or finger. Then, just hold it up to the webcam and voila, you can see what the jewelry piece looks like on you. It's almost like having your own virtual private jewelry showing.
It's all available at myBoucheron.com, and, with the option to select PC or Mac, we predict as little glitches as possible.
Tags:
Boucheron jewelry
,
Virtual