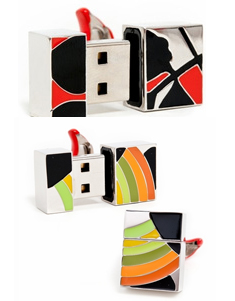 With the current influx of technology inspired fashion and beauty products (i.e. clap off bras and LED eye shadows), it should be no surprise that the latest trinket has a wonderfully tech-y edge.
Designer Robert Graham has just created a line of colorful USB cuff links that are sure to make this Father's Day a memorable one for dads everywhere.
That's right boys, 4 GB of memory, literally, at your fingertips.
Tremendously refreshing, unlike some of Graham's high tech predecessors, these cuff links are quite useful and well developed.
Graham has not sacrificed style or practicality in his designs,  instead he melded both concepts into one revolutionary product.
Holding 2 gigabytes of memory each (1,000 to 1,200 songs) as well as being hand painted on flawless enamel make these tiny accessories quite an investment at $228 a set.
If you're in the market to splurge for your dad on that special day, these cuff links can be purchased at the Robert Graham store in Venice, California or online here.
Tags:
cuff links
,
Robert Graham