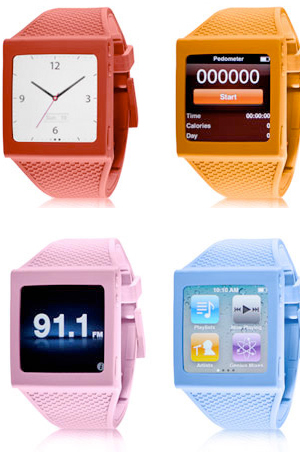 When the iPod Nano 6G was released, Steve Jobs joked that it was so small that it could be worn as a watch.
Little did he know that his statement would get many creative minds turning.
Hex,  a branch of August Accessories that connects technology with fashion,  is the latest company to jump on the iPod accessory bandwagon with their newest release, a futuristic watch that not only holds and protects your iPod, but is also stylish.
Made of silicone, these nifty little gadgets come complete with push through button covers, an audio port cover, and a cut-out area for easy access to the iPod's screen. Not to mention the lovely feature that makes it totally easy to snap your Nano in and out as you please.
They come in nine vibrant colors and are sold for a mere $25!
Seriously, what's not to love about a cute, affordable watch that grants you 24 hours of music along with all of the other amazing features that come with the iPod, and is still able to give you the proper time.
Tags:
August Accessories
,
Hex
,
iPod Nano