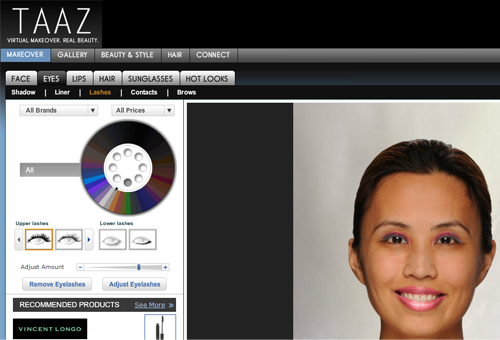 It may sound silly, but even beauty writers get writer's block. I know what you're probably thinking—how hard can it be to write about a lipstick?
What's so difficult about blabbing over body butter?
I know it's not rocket science, but it's still writing, and sometimes things just don't flow. When that happens, I switch to something mindless for a few minutes. Or twenty.
My most recent diversion discovery is pretty fantastic, and beauty related, to boot. It's Tazz.com's Virtual Makeover and I suggest you try it stat.
Not only is it a fun way to see how you'd look with crazy bright lips, over-the-top eyeliner, or even purple eyes, but it's also totally helpful.
For each eye shadow, lipgloss, or mascara you select, a product is recommended to replicate the look in real life.
My shiny red lips, for example, would best be achieved offline with Paula Dorf's Lip Duet in Wish.
| | |
| --- | --- |
| | |
| | Taaz before and after. |
And if I really wanted to change the color of my eyes from blue to green, all I need to do is pop in a pair of Acuvue Opaques contact lenses in Jade Green.
Plus, I always wondered what I'd look like with short, pink-streaked hair. Now I know.
So check Tazz out, but be warned: it's highly addictive.
Yes, it did relieve me of my writer's block, but it also kept me online for hours.
Tags:
Tazz.com