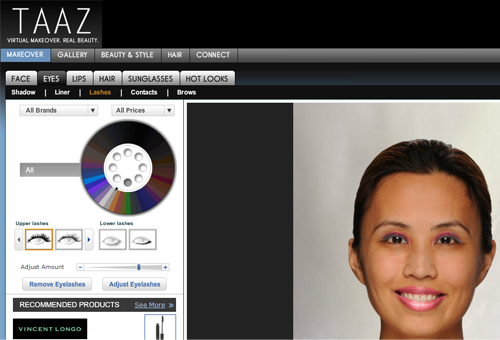 It may sound silly, but even beauty writers get writer's block. I know what you're probably thinking—how hard can it be to write about a lipstick?
What's so difficult about blabbing over body butter?
I know it's not rocket science, but it's still writing, and sometimes things just don't flow. When that happens, I switch to something mindless for a few minutes. Or twenty.
My most recent diversion discovery is pretty fantastic, and beauty related, to boot. It's Tazz.com's Virtual Makeover and I suggest you try it stat.
Not only is it a fun way to see how you'd look with crazy bright lips, over-the-top eyeliner, or even purple eyes, but it's also totally helpful.
For each eye shadow, lipgloss, or mascara you select, a product is recommended to replicate the look in real life.
My shiny red lips, for example, would best be achieved offline with Paula Dorf's Lip Duet in Wish.
| | |
| --- | --- |
| | |
| | Taaz before and after. |
And if I really wanted to change the color of my eyes from blue to green, all I need to do is pop in a pair of Acuvue Opaques contact lenses in Jade Green.
Plus, I always wondered what I'd look like with short, pink-streaked hair. Now I know.
So check Tazz out, but be warned: it's highly addictive.
Yes, it did relieve me of my writer's block, but it also kept me online for hours.
---

Susan is a freelance writer, born and raised in NYC and currently based in Brooklyn. She's the senior beauty editor for Meets Obsession, and also writes for online publications such as Mamasarollingstone.com, TueNight.com.
and The Huffington Post. Susan had a serious candle hoarding issue that she has no plans to address. She's currently obsessed with Marc Jacobs' new beauty line, her black Zara moto jacket, and Aaron Paul.
All author posts