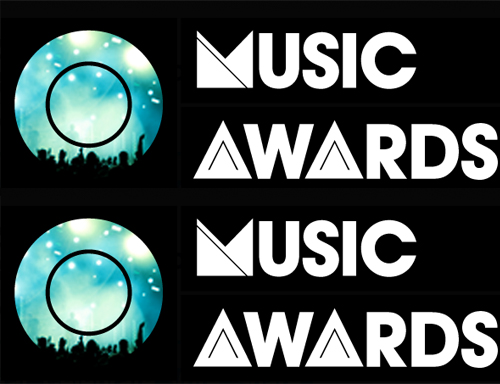 Months ago, we wrote about  MTV's plan to launch a digital awards contest, and recently, the formerly elusive contest has finally launched a website and is now known as the O Music awards.
According to MTV, the O Music Awards "will find and spotlight the Must Follow Artist on Twitter, the Most Innovative Music Video, the Best Fan Cover, and many more."
Fans will be able to vote for favorites on an undetermined date by following MTV via twitter at @mtvoma.
Winners will be announced on April 28th in an awards show via omusicawards.com.
Here are the categories and nominees that are up for awards:
Best Fan Cover
Scampi
Mike Tompkins
Maria Aragon
PS22 Chorus
Jorge and Alexa Narvaez
Alex Goot
Innovative Music Video
Arcade Fire
Robyn
Chris Milk
Cassius
Sour
OK Go
Das Racist
Craig Wedren
Andy Grammer
Fan Army FTW
Beliebers
Little Monsters
Taylor Gang
Barbiez
Clouds
Echelon
Killjoys & MCRmy
Aliens/Tokio Hotel Fans
Katy Kats
Rihanna Navy
Glamberts
Funniest Music Short
Antoine Dodson & Gregory Brothers
Portlandia
Lonely Island
Lonely Island
Funny or Die
Innovative Artist
Radiohead
Tyler the Creator
Kanye West
Lady Gaga
Lil B
The Flaming Lips
iamamiwhoami
Must Follow Artist on Twitter
Kanye West
Nicki Minaj
Amanda Palmer
Tyler the Creator
50 Cent
Ted Leo
Questlove
Lady Gaga
NSFW Music Video
Yuck
M.I.A.
The Flaming Lips
Earl Sweatshirt
UNKLE
Most Viral Dance
The Dougie
The Berney Dance
Willow Smith's Whip My Hair Dance
Lil B's Cooking Dance
Ginuwine Pony
Best Independent Music Blog
Aquarium Drunkard
My Old Kentucky Blog
Gorilla vs Bear
Brooklyn Vegan
Nah Right
Arjan Writes
Hipster Runoff
Transparent Blog
Said the Gramophone
Pretty Much Amazing
Discobelle
Best Music Hashtag Meme
#fatindiebands
#awfulsupergroups
#failedrockbandmovies
#lessambitiousbands
#bustinjieber
Best Music Discovery Service
The Hype Machine
Shuffler.fm
Pandora
RCRD LBL
SoundCloud
Bandcamp
We Are Hunted
Shazam
Best Performance Series
From the Basement
Yours Truly
La Blogotheque
NPR
4AD
MTV Music Group
Black Cab Sessions
A.V. Club
Daryl Hall
Beck
Favorite F**k Yeah Tumblr
F**k Yeah Crazy Britney
F**k Yeah Thom Yorke
F**k Yeah Nicki Minaj
F**k Yeah Lady Gaga
F**k Yeah KiD CuDi
F**k Yeah Kanye West
F**k Yeah Beyonce Knowles
F**k Yeah Adam Lambert
F**k Yeah Janelle Monae
F**k Yeah Rihanna
Favorite Animated GIF
Justin Bieber
Lady Gaga
50 Cent, Rebecca Black, and Bert
50 Cent, Bert and Kermit
Katy Perry
Mariah Carey
Rihanna & Katy Perry
Whitney Houston
Nicki Minaj
Best Fan Forum
Justin Bieber
Michael Jackson
Phish
Britney Spears
Animal Collective
Best Music Hack
Marshall Jones – Highlight to Listen
Jennie Lamere and Paul Lamere – Jennie's Ultimate Road Trip
Imanol Gomez, Jorge Garcia, and Vincent Akkermans – Sing'Em All
Tim Soo – Invisible Instruments
Mike Novack – Gigbeat
Best Animal Performance
Death Metal Rooster
Parrot Dancing To Willow Smith's Whip My Hair
Sax Playing Walrus
Dancing Merengue Dog
Cats from Holy F**k's "Red Lights"
Parrot Sings Drowning Pool's "Let The Bodies Hit The Floor"
Best Remix
Andre 3000
Birdman
Tyler the Creator
Miami Horror
Hercules & Love Affair
Skrillex
Best iTunes LP
Gorillaz – Plastic Beach
Bruce Springsteen – The Promise
The Beatles – The Beatles Box Set
Talib Kweli – Reflection Eternal/Revolutions Per Minute (Deluxe Version)
Pink – Greatest Hits…So Far!!!
Janelle Monae – The ArchAndroid (Deluxe)