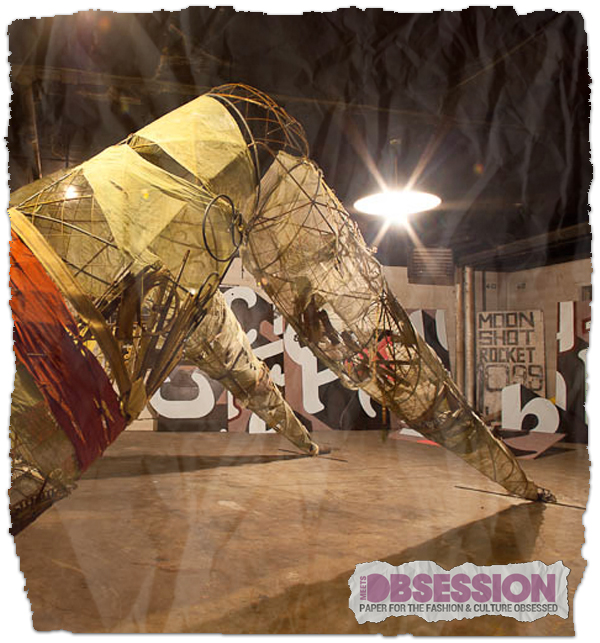 [divider]
"Home Mender" art installation curated by Justine Topfer.  Photo: Todd Seelie
[divider]
Last Saturday night, the Capitol Skyline Hotel hosted the launch party for DC's newest art endeavor, 5×5.
Over the course of April, many of the District's neighborhoods will be decorated with temporary art pieces from "25 notable artists from around the world," (according to the website). This is DC's very first citywide public art festival.
5×5, which is funded by the D.C. Commission on the Arts and Humanities, got its name due to the five curators who are each in charge of five artists (hailing from countries such as Germany, the UK, Canada and the US), making a total of 25 art installations.
"This is definitely something you haven't seen in Washington before," festival project manager, Mary Beth Brown told Meets Obsession. "But, since its launch, the project has been fairly well received."
The idea for 5×5 came out of the city's Public Art Master Plan that was created in 2009. "We spent two years working out the details," says Brown.
It wasn't until this past summer that the call for curators was released. The panel process began in September to select the final five.
[divider]
"Home Mender" art installation curated by Justine Topfer.  Photo: Todd Seelie
[divider]
All the artists—handpicked by the five curators—were notified by mid-December and many of them started their pieces within the month. "It's been an ongoing process," says Brown. Artists were selected in various different ways, "budget, site availability, and some of the selected artists are part of preexisting collectives, and so instead of choosing one artists the entire collective was chosen."
Exhibits have been places all over the city, including less traveled areas such as the southwest waterfront and Anacostia. Other installation areas include Capitol Hill, and the upper northwest quadrant.
"One of our goals with 5×5 is to get people to think of DC as more than just a city of monuments," says Brown. "We partnered with the National Cherry Blossom Festival because there are so many tourists visiting right now. Hopefully, we'll get people—tourist and locals alike—to explore the city's neighborhoods."
Though the festival is only scheduled to run for five weeks—until April 27—some pieces will be available for viewing afterwards.
In fact, the last piece won't be dismantled until July 20. Brown suggests looking on the map of exhibits and making a day of seeing them. "It can be a lot to take in," she explains. "Especially since some of the projects are moving."
However, some of the artists have scheduled events and workshops that must be attended in order to view the work, such as Monica Canilao's tree-house-esque sculpture made from discarded materials, located in Anacostia's abandoned police warehouse. "But the more sculptural pieces are there for you to visit at your own pleasure. In fact, we might try to organize some sort of bus tour during the last scheduled week of the festival."
What adds to the uniqueness of 5×5's debut—besides the fact that it coincides with the 100 year anniversary of the National Cherry Blossom Festival—is that it's "exciting!" exclaims Brown. "That's the great thing about public art—it leaves as quickly as it appears."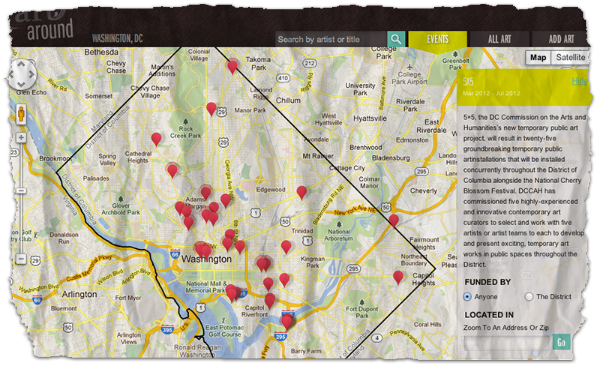 For more information, please visit the 5×5 Project at  www.the5x5project.com