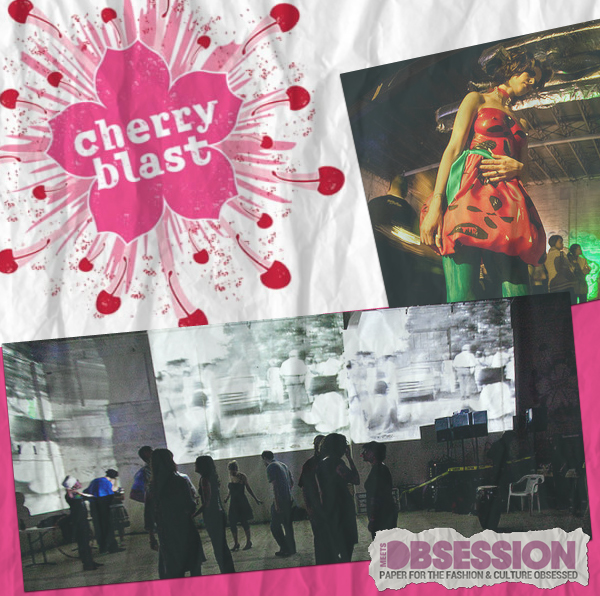 Cherry Blast 2009. Photos courtesyof the Pink Line Project.
[divider]
This Saturday night, the Lightbox will host DC's fourth annual Cherry Blast, an art and cultural extravaganza intended to highlight the city's emerging underground artists.
This year's party returns to Anacostia boosting the biggest and best Cherry Blast yet.
The night will host an array of avant-garde performance art, multiple bands and local DJs. There will also be installation pieces by local band Bluebrain, and contributions from the art collective Vestibule.
"This performance experience will be like nothing DC has seen before," says Josef Palermo, the chief community curator for Pink Line Project. "I don't want to give away all the details, but the audience can expect to be involved, and I got my wish: there will be aerial dancers occupying the space above."
| | |
| --- | --- |
| Bluebrain's 'Sunshowers' audio/visual installation[divider] | |
The Lightbox was created by a partnership of The Pink Line Project and another local non-profit, Arch Development, which aims to revitalize economic development for Anacostia through art and culture.
Four Points LLC allowed the use of the abandoned warehouse that was once home to the Metropolitan Police Department's Evidence Control Division. The 100,000 square-foot space has since housed the inaugural Lumen8Anacostia launch party, as well as hosted Monica Canilao's "Home Mender" installation for the 5×5 Project.
According to Palermo, several other 5×5 interactive installations will be showcased at Saturday's Cherry Blast, including a piece from the Floating Lab Collective.
The space, as well as the Lumen8 Festival is part of a revitalization process of Anacostia. "Neighborhood residents told me again and again how proud they were of their community," says Palermo about last weekend's launch party.
"They're excited to present what they feel like Anacostia really has to offer. Well over 5,000 people came through the Lightbox during our launch party, and the diversity of the crowd was a real reflection of all that is DC."
But what happens to Lightbox after this weekend?
"The goal is to to sustain it as a temporary cultural destination East of the River," explains Palermo. The Pink Line Project will continue to work with Anacostia residents, "while also attracting visitors to the neighborhood from the other quadrants of D.C."
According to Palermo, "secret" acoustic concerts will be the Lightbox's next endeavor. The third floor "Lightbox Loft" intimate shows will feature both (inter)national artists as well as local DC groups. Information will be posted via social media sites.
The space also houses a pop-up restaurant created by Busboys and Poets, who will be serving food will be available all night long.
"There is grassroots groundswell of creative activity taking hold in DC," says Palermo. "and I promise you that Cherry Blast will highlight it."
Cherry Blast is part of the district's centennial celebration of the Cherry Blossom Festival, which is also home to the 2012 Pink Tie Party, a foodie's event featuring cocktails and cuisine by some of the District's top restaurants and hosted by Chefs José Andrés and Roy Yamaguchi.