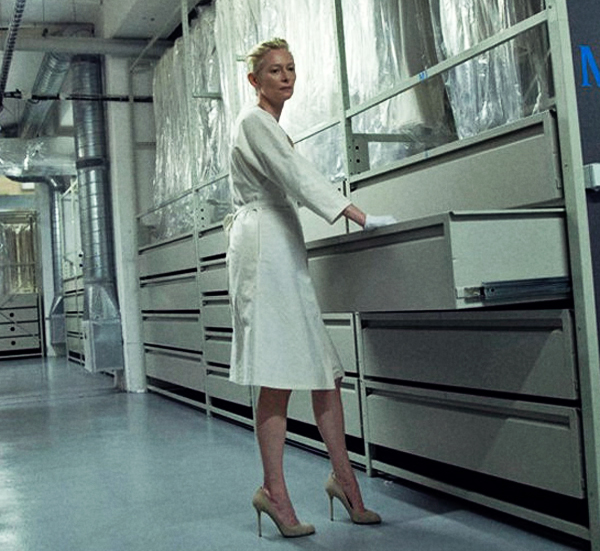 Haider Ackermann's muse, Tilda Swinton, is going to be all over Paris Fashion Week this autumn starring in a live performance piece every night from September 29 to October 1. A short film which was recorded during those rehearsals will be played on loop at the Palais de Tokyo.
The live performance is the brain child of Olivier Saillard, fashion historian and the Musée Galliera's director. Dubbed "The Impossible Wardrobe," it is a conceptual installation which pays homage to fashion museums and the meticulous care and appreciation of those never to be worn again garments. Swinton will play the archivist.
The film, directed by Katerina Jebb, of previous Comme des Garcons and Givenchy collaborations fame, is called "The Future Will Last A Very Long Time."
Jebb, known for her experimental and avant garde style, shows Swinton in a slim tailored white lab coat inspecting the garments of historical figures like Napoleon Bonaparte and Madeleine Vionnet and encounters their ghostly entities.
The androgynous actress is no stranger to the fashion world. Viktor and Rolf's appropriated her ice blonde look on its 2003 runways and she is an oft-seen front row attendee to shows.
Let's hope there's time in her schedule to enjoy PFW and inspire us with her coordinates.
---

Sinta Jimenez is currently obsessed with Opening Ceremony collaborations, Band of Outsiders, warabi mochi from Temari Cafe, meteor showers, and finding a Jeff Buckley soul with a Jason Segel sense of humor.
All author posts