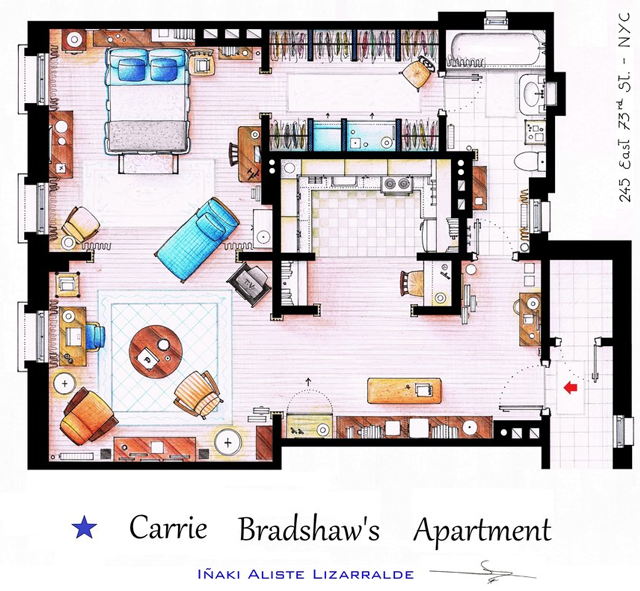 We all know that 245 East 73rd street was a fake address used for Carrie Bradshaw's apartment in the popular HBO show "Sex and the City."
In reality, her bedroom was created on a soundstage at Silvercup Studios in Queens.
Does that mean we fantasize any less about that perfect New York space of hers? Not really.
And thanks to illustrator Inaki Aliste Lizarralde, we now have a detailed bird's eye view of Carrie's  fake but desirable apartment.
In Lizarralde's floor plan, she included major details such as Aidan's leather chair and Carrie's writing desk complete with laptop. The most important room, the closet, is shown between the bedroom and bathroom where Carrie would ponder what piece of designer clothing to wear before a date or fashion party.
We'll ignore the fact that a writer's salary would never cover the cost of her apartment on the Upper East Side, especially with her clothing habit.
While most of us are up early for our 9 to 5 thankless jobs, Carrie would sleep until 10:00 am followed by a day of shopping,  fancy lunches and exclusive parties.
If only Lizarralde could create a blueprint for Carrie's life.
---

Bridget is a writer, stylist, and vintage clothing dealer based in Kennett Square, Pennsylvania. Bridget enjoys spending time with her boyfriend and guinea pig, and in her spare time sells vintage at local flea markets . Bridget is currently obsessed with Zooey Deschanel's wardrobe on New Girl, Moroccan food, and microcars.
All author posts