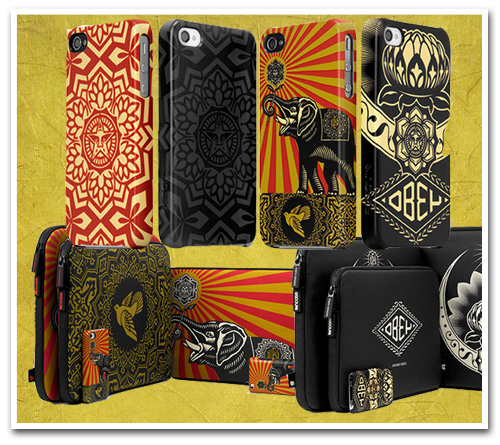 American graphic designer and illustrator Shepard Fairey, who came to prominence during the 2008 presidential elections for his iconic, pop-art styled Barack Obama "Hope" posters, stepped away from political art to create a capsule collection of Apple accessories for Incase.
While the designs aren't politically based, Fairey still keeps to his societal memes with bold designs that consist of illustrations inspired by the Hindu and Zen motifs of peace and harmony.
The three basic designs feature a black elephant in a 1920s Russian avant-garde propagandist art-like background, a dark lotus motif with his signature "OBEY" logo and a geometric style floral emblem.
The designs will come in snap cases for the iPhone and iPod Touch, canvas sleeves for 13 and 15 inch laptops and campus packs.
Currently available at select discerning boutiques worldwide and in limited availability via select Apple Stores and at Goincase.com, the Shepard Fairey for Incase collection will retail from $29.95 to $149.95.,
In addition to the cases, if you really like the designs, Incase has free wallpaper versions, so you can make a statement, or just be inspired via your tech's desktop.
Fairey has created quite a cultural statement collection that will definitely make your own Apple tech standout from the Apple fanboys'.