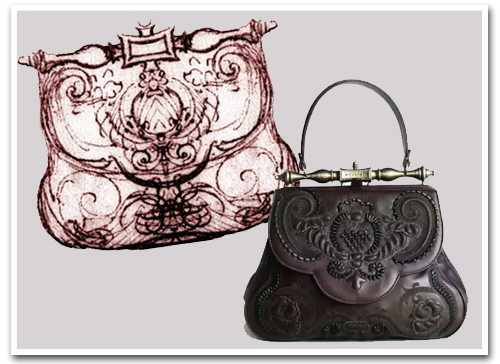 (Left) Original sketch from Da Vinci's  Codex Atlanticus (Right) Gherardini "Pretiosa" bag
What do you get when you combine a 500-Year-Old Leonardo da Vinci sketch with a luxury handbag maker?
The answer comes in the form of a calfskin leather handbag named the "Pretiosa."
The luxury leather bag, designed by Carla Braccialini of the Gherardini fashion house, is based off of a sketch by artist Leonardo da Vinci during his first Milanese period.
According to The History Blog, in 1978, da Vinci scholar Carlo Pedretti identified a 1497 Da Vinci drawing—which is contained in da Vinci's Codex Atlanticu—as  a handbag.  As the story goes, the damaged sketches were reassembled by Agnese Sabato and Alessandro Vezzosi of the Museo Ideale Leonardo Da Vinci.
As a tribute to Florence—where the Gherardini house was established over 126 years ago—Gherardini bought the original da Vinci work of art to life by creating the "Pretiosa" bag, which was recently displayed for three days at the Accademia delle Arti del Disegno.
Gherardini produced only 99 "Pretiosa" bags, all of which are rumored to go on sale in Gherardini boutiques starting this March.
Though, we're guessing that you probably have to sell your soul (or firstborn) to get your hands on one.