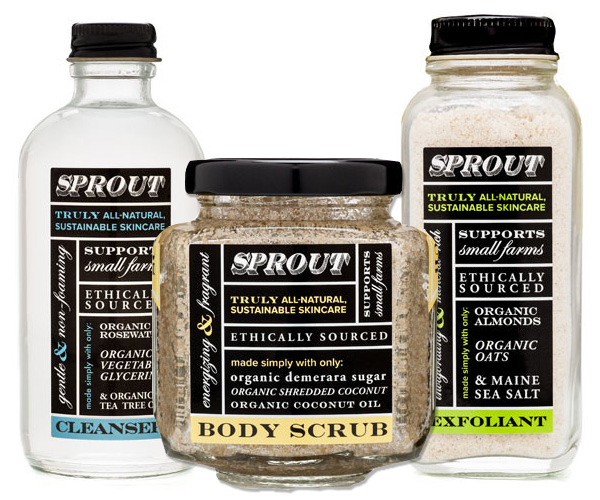 I love body scrubs. And I love organic beauty products—especially those that smell good enough to eat.  Which is why I'm so excited to have discovered this sugar body scrub by a small Brooklyn-based skincare line called Sprout.
The story behind Sprout is a good one: Founder Adina Grigore found herself allergic to basically every beauty product on the planet, so she set out to make her own. When friends, friend of friends, and even more friends discovered that the products also worked well for them, Adina turned her DIY skincare project into a business.
Most of Sprout's products contain only three ingredients (the scrub is made of extra virgin olive oil, organic coconut and organic demerara sugar). No product surpasses five. There are no added synthetics or fillers, and all ingredients are organic, fair trade or locally sourced. "When you make things simpler," Adina explains, "you end up with more of the good stuff."
There's no fronting on the all-natural claims when it comes to this company: Sprout is truly organic, in all senses of the word.
Which is why you really can eat their sugar scrub, and it smells so deliciously sweet that I wouldn't blame you for taking a taste. It's also an excellent exfoliant that leaves your skin super-soft and free of dead derma.  The scrub was particularly effective at sloughing the super dry skin from my elbows.
Sprout's organic scrub is not for the faint of heart—this really is a scrub, not a hybrid exfoliant-cream, so it's grainy. But it's not at all rough, it absorbs well, and it definitely does its job. Plus, it leaves behind such a lovely sugar/coconut scent.
Yum is right!
Tags:
Adina Grigore
,
Sprout