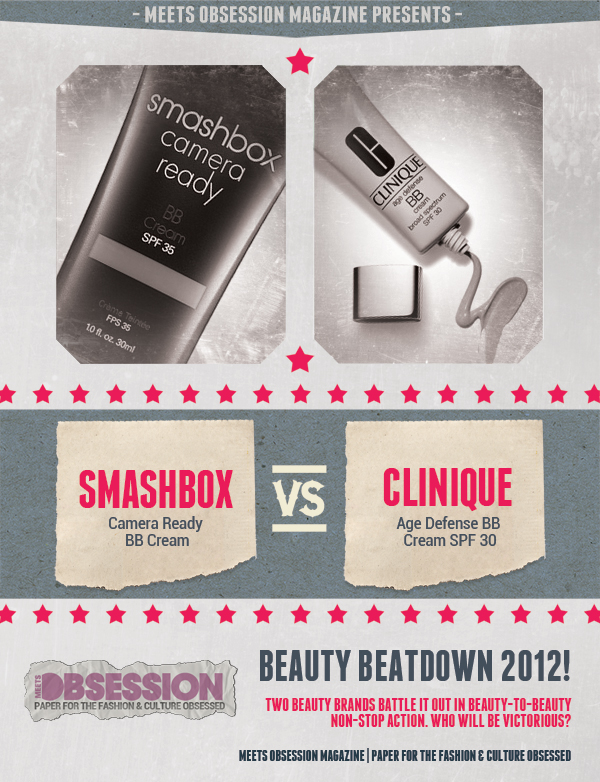 Welcome to MO's "Beauty Beatdown,"  a new beauty comparison column where our favorite beauty brands go head-to-head to compete for the ultimate beauty championship.
For my first beauty beatdown, we're going to be comparing BB creams, the new must-have beauty product that's making the rounds.
Working every day as a freelance makeup artist, I hear about new products every day. Rarely, do any of them gain as much steam as the recently-popular "BB Cream."
First, it was a faint buzz, ("you can only get it in Asia!"), but then it eventually became a cacophony from every direction that I couldn't ignore.
Makeup artists were talking about it, clients were asking for it and no one even really knew what it was, they just knew they wanted it.
So, if you don't know "BB," listen up, because you're going to want to pay attention to this.
But first, a little history lesson:
BB Cream, aka Blemish Balm or Beauty Balm,  was initially developed in 1967 by a German dermatologist for use on post-op laser surgery patients to soothe their skin and hide discoloration and imperfections caused by the procedure. Think of as a tinted moisturizer on steroids.
The now-famous cream became a cult addiction in Asia, where the women are SERIOUS about having flawless, glowing skin. And if you have ever been there, you know exactly what I'm talking about.
Flash forward to now: "Um, hello, we're American and we want the awesome creamy crack skin product that is making these Korean womens' skin look so fab!"
Now everyone, from Garnier to Tarte, carries a version of their own BB crème.
Don't you just love Capitalism? I know I do.
While I tested about 5 different brands, I chose 2 of the top-selling and most highly anticipated BB Creams to review: Clinique and Smashbox.
Get ready for the Beatdown!
[divider]ROUND 1: the logistics[divider]
Clinique's BB Cream retails for $37 for 1.3 oz,  with an SPF of 30.
Smashbox's BB Cream retails for $39 for 1 oz, with an SPF of 35.
Both are available at Sephora.com


Round 1 Winner: TIE: SMASHBOX & Clinque
Smashbox is slightly more expensive, but beats the Clinique with a higher SPF.
[divider]ROUND 2: What they both claim to do[divider]
[starlist]
Provide SPF to replace the need for an SPF cream
Reduce the appearance of fine lines and large pores to replace the need for a primer
Provide a light,natural coverage to even skin tone
Fragrance free,dermatologist tested and non-acnegenic
Both need to be warmed up in your fingertips and applied with your bare hands to achieve the correct effect. [/starlist]
Unfortunately for Clinique, Smashbox goes above and beyond, adding a more radiant finish, an oil controlling property, a hydrating property, buildable coverage for a more flawless look, and can also be worn under your regular foundation to add up to 8 hours of wear on your traditional foundation.


Round 2 Winner: SMASHBOX
Smashbox wins round two, which now I'm getting why it's slightly more expensive.
[divider]Round 3- The Nitty Gritty[divider]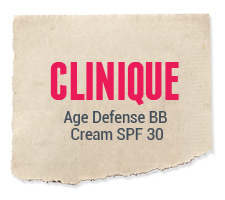 First, let me start by saying that the Clinique BB Cream only comes in 2 shades. One for yellow undertones, and one for pink undertones. So unless you're Caucasian, sorry, you're out of luck.
I did try it on a dark-skinned friend of mine, and it just sat there and looked unapologetically ashy.
The Smashbox BB Cream comes in 5 shades, ranging from fair to dark, making it an option for any ethnicity or for a future Benneton ad campaign.
On Day 1, my skin being the shade of ecru wall paint, I applied my Clinique BB Cream in the yellow undertone. It felt very smooth and creamy going on, and the undertone blended well with my own, but I wanted it to have a little more coverage for areas like the dark circles under my eyes.
It also had a nice lightweight feel to it, which is perfect for those summer months. 2 hours in, any slight bit of coverage that was there when I applied it was now gone, except for the polite bits that decided to stick around and settle into the lines around my eyes.
Awesome! I looked like I had aged 10 years without the aid of a time machine or tanning bed!
One of my friends actually asked me if I was tired—girl slang for "Hey, you look like shit."
My evening ended with a glass of wine (or 4) to soothe my bruised ego.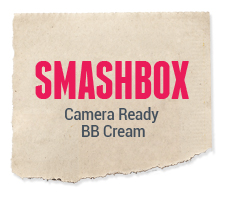 On to the Smashbox BB Cream:
I followed the directions: warming Smashbox's BB cream on my fingertips, then applied it to my skin in an outward, sweeping motion.
Like the Clinique, it went on smoothly, and felt super yummy and lightweight.
There was nary a large pore or fine wrinkle in sight.
Now remember, the Smashbox product says you can layer it for more coverage in problem areas, so I did, focusing on my dark undereyes (Is my editor reading this and getting the hint yet?).
It covered beautifully without caking, and I instantly noticed a nice radiant glow, typically only seen on pregnant or post-coital women, and of course, J-Lo in all her dewy glory.
I was in love with the results, but wary—I didn't want it to end.
I dashed off to work, where I was going to see a bridal client for her wedding day trial makeup. We sat down to do a consultation so that I could assess the look she wanted for her big day.
Her exact words?
"All I know is that I want my skin to look like yours! It's so smooth and glowing! Who is your dermatologist?"
Who, moi? 
I looked in the mirror, and she was right, my skin looked am azing, but like I had no makeup on at all. And it stayed that way, all day until I grudgingly took it off before bed.
The next day, I wore it under my full coverage foundation to see how it performed, and the results were the same.
[divider]The FINAL SCORE:[divider]

[divider]Smashbox BB Cream beat out the Clinique BB Cream with a TKO.[divider]
The bottom line: if you have chronic acne or severe discoloration, you will probably want to stick with a traditional foundation for the coverage that you need.
For people with decent skin who typically wear a tinted moisturizer, you'll love this product.
Just don't tell anyone about it, or I might be out of a job 😉