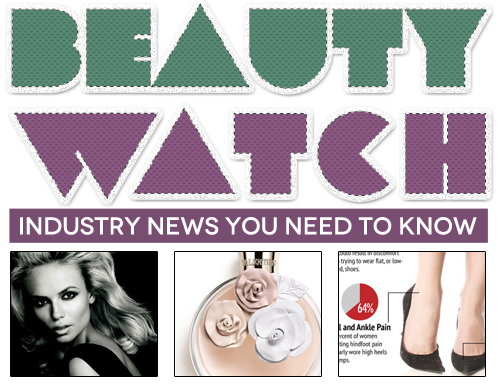 According to one study, nearly 50% of women feel
unattractive without makeup
(via Huffpo) A new study by the Harris poll, conducted on behalf of the Renfrew Center Foundation which researches eating disorders, shows that 44% of women feel unattractive without any makeup on.
Natasha Poly gets hired by L'Oréal Paris
 (via Elle UK) Many, many years after debuting on Emanuel Ungaro's runway back in 2003, Natasha Poly has scored her first major beauty contract.
Valentino launches a fragrance
 (via Fashion etc.) Valentino creative directors Pier Paolo Piccioli and Maria Grazia Chiuri have ushered in a new era at the fashion house by putting their own modern spin on Valentino Garavani's legendary legacy—and their new fragrance, Valentina, does just that.
An infographic explains why wearing high heels may
be hurting you more than you think
(via Live Science)
 Colors named 'Vampsterdam' and 'Wooden Shoe Like to Know?' are part of OPI's  newest Holland Collection
(via She Finds) The Holland Collection is a total homage to the Netherlands region: tulips, and windmills, Gouda cheese and Herring. Luckily, it's more than just shtick: colors like a bright poppy A Roll in The Hague, and the vamp purple Vampsterdam are totally on-trend for Spring's nail trends.