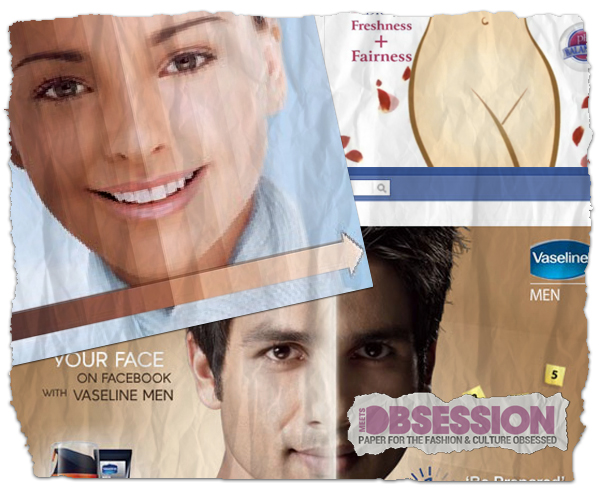 Top left to bottom: advertisements for Fair & Lovely, Clean and Dry Intimate Wash and Vaseline's Fair & Handsome
Raising the bar on beauty standards for women (and men) isn't necessarily new, but a recent commercial has raised more than a few eyebrows. The advertisement currently playing on the TVs of India is for "Clean and Dry Intimate Wash," which portrays a noticeably unhappy couple ignoring each other over morning coffee. The problem—apparently—stems from the woman's darker complexioned vagina. But once she showers using said product, the husband/boyfriend/male is once again in love and attracted to her. "Clean and Dry" is a vagina-bleaching product.
| | |
| --- | --- |
| | |
|  Commercial for "Clean and Dry Intimate Wash" | |
This is not the first time a beauty product like this has been created, marketed and successfully sold. Women (and men) are frequently told they're not skinny enough, or hairless enough, or white enough. And now even our genitals aren't safe. All women—because, let's face it—women are consistently at the forefront—are pitted in this race towards near-impossible beauty standards. The most common of which in these standards is paleness, or more correctly, whiteness.
As Marie Clare magazine pointed out, there has been a recent upswing in "ethnic-specific" plastic surgeries, including double eyelid surgery, rhinoplasty, and calf reductions.
"With this commercial, we might think this is a new trend, or happening solely in India, but really this is a fashion staple," says Dr. Marcia Alesan Dawkins, a visiting scholar at Brown University and author of Clearly Invisible: Racial Passing and the Color of Cultural Identity to Meets Obsession. "This has been going on for a long time. It cuts across nations, eras, historical groups and gender."
The defense spouted by the "Clean and Dry" male ad executive, Alyque Padamsee, is that fairness cream simply makes skin fairer. Like lipstick makes lips redder. "I don't think any Youngistani today thinks the British Raj/White man is superior to us Brown folk," Padamsee wrote in Open Magazine in March. "The only reason I can offer for why people like fairness is this: if you have two beautiful girls, one of them fair and the other dark, you see the fair girl's features more clearly. This is because her complexion reflects more light."
And like many things, this is not only affecting women, but men too.
In 2005, Emami launched "Fair & Handsome," a skin lightening cream targeted at Indian men.  Meanwhile, American-based company, Vaseline, also markets these products for men, (though its only for face and neck currently, not their genitals).  "They can also download a phone app that will show them how much the cream will lighten their skin over time," explains Dawkins. "This cuts across gender lines, it's racism; even if it's not the way we in the U.S. generally think about it. It's the way we think about race on a larger scale that greatly impacts the beauty and fashion industry."
Another interesting theory is that women are not necessarily striving for "whiteness" but that everyone is trying for a "multi-ethnic" look.
In 2007, ABC News conducted an interview with plastic surgeon, Dr. Amiya Prasad.
He claimed that most of his clients of color "don't want to want to change their appearance so radically." It was also argued by several plastic surgeons that Caucasians are also striving for a melting pot look.
| | |
| --- | --- |
| | |
| | Top to bottom: Beyonce, Jennifer Lopez, Angelina Jolie |
Dawkins noted this as well. "There's an increasingly new idea of what beauty is. Girls are being told that tan and beige are the skin colors that reflect everybody, but they don't. And with marketing, telling even white girls that tan is what's beautiful, it affects them too. It's changing the way we look at white women, too," Dawkins said. Specifically, she pointed out superstars Angelina Jolie, Beyonce, and J.Lo, all of who tend to have a similar skin color these days. But she also noted that this does not affect white privilege.
"A Caucasian person of maybe Irish descent, who typically would have thin lips, is coming in to have Restylane injections to enhance their lips," Prasad noted in his ABC interview. "That's a really interesting blending of ethnicity that is also considered very attractive." However, when Dr. Melissa Johnson, a Professor of Anthropology of Race and Gender, heard this argument she scoffed.
"Bigger lips is not necessarily a non-white feature, it's usually regarded as a youthful feature," Johnson explained to Meets Obsession. But she did agree that these intense standards of beauty are affecting all women. "White women do this as well. While we haven't heard much about vaginal bleaching here in the U.S., I'm sure it's happening, and anal bleaching is quite common among all sets of women."
Both professors believe that on small fronts, the idea of beauty is being challenged. "Though there is a global desire for whiteness, there are counter forces too, and people are fighting it. There are feminist movements and body image groups, even beauty pageants are fighting to bring the idea that black skin IS beautiful to the foreground," says Johnson. "But I don't know if the overarching idea of 'what is beautiful' is being challenged as a whole."
Dawkins took it one step further. "I urge you to really think about this idea of passing as a fashion trend. One that yields real results for the people and is something that eventually becomes an issue of class & politics."
[divider]
Photo Credits: Beyonce photo (Parkwood Pictures Entertainment LLC, Management Company of Beyonce Knowles, Tony Duran), Jennifer Lopez photo (Universal Music Greece), Angelina Jolie photo (Georges Biard).