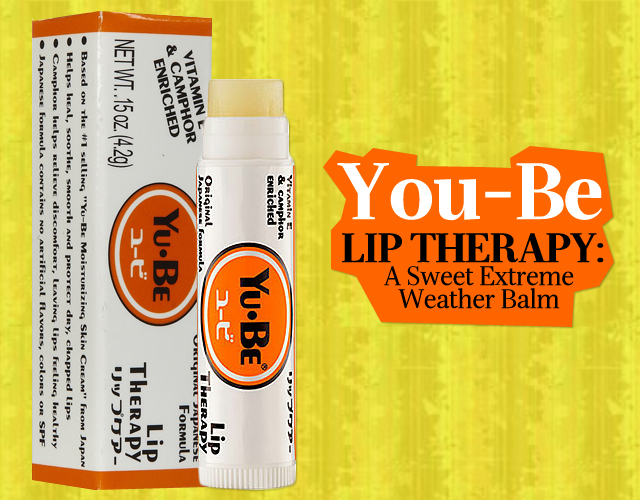 I cheated on my favorite lip balm last weekend. I'm not proud of this fact — there's nothing that soothes my lips better than La Bella Figura's La Curacio balm — but I accidentally left it at home and was desperate.  And the conditions were extreme, at least for me: I was spending Saturday on top of a mountain, in 40-degree weather, zip-lining from tree to tree.
A daredevil I most certainly am not, so the fact that I was in this predicament to begin with was pretty hilarious. (Thank you, husband! And Hunter Mountain — if you're looking for a thrill, it's a great place to go.) But there I was, my adrenaline pumping — and my lips chapping — when an extremely kind soul offered some help: She gave me an extra stick of Yu-Be Lip Therapy. I'd never heard of the brand.
It worked wonderfully. I'm really picky when it comes to lip balms — so many of them are overly waxy, only work as a quick fix, or just don't work at all. But Yu-Be soothed and protected my pucker all day long, zip-lines and 40-miles-per-hour speeds be damned.
Plus, there's a whole slew of Yu-Be skin products that I'm now dying to try. The line originated in Japan back in 1957 with a glycerin-based moisturizing cream and now, in addition to the lip balm, there's also a body lotion, a heel and elbow soother, and a foaming skin polish.
I'm still going to stay faithful to my beloved LBF lip soother, but Yu-Be's balm is an excellent backup. And I'm excited to test out their other winter-skin soothers — keep your eyes peeled for a full report!
Tags:
La Bella Figura
,
Yu-Be Lip