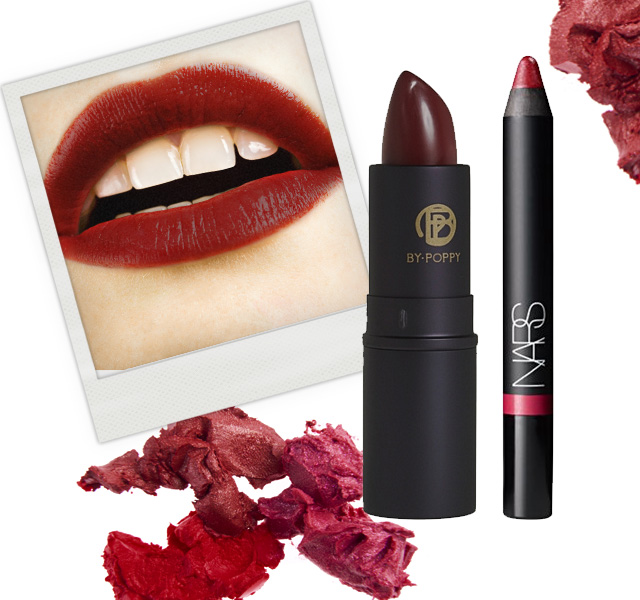 I'm always taking cues from the fabulous Meets Obsession fashion editors. And one of my favorite looks for fall—the "luxurious prints and opulent embellishments" that Jenny McFarlane recently reported on—is currently hitting my closet in a major way. I'm more of a minimalist girl, so I tend to opt for rich fabrics over super ornate patterns, but no matter—there's one beauty trend that goes great with any Baroque-inspired outfit, and that's a bold red lip.
How do you get it? Here are three quick tips:


1 Start with a good lip liner, which is key for keeping your color in place. The shade doesn't have to match your red lipstick exactly, and should be a bit creamy. We like NARS Velvet Gloss Lip Pencil in Baroque.
2
After outlining (pay attention to the cupid's bow—is it even?), fill in the rest of your lips with the pencil. They don't have to be perfectly covered—the point is to create a base for the lipstick.

3 Choose your burgundy lip color. Lipstick Queen Lipstick in Sinner Wine is an amazing, opaque shade—completely matte with no shimmer. Apply evenly to lips, blot, than apply once more. You can also use a lip brush for a more precise line, which can be a great help if your lips are thin.


Tip Want to add an extra, Baroque-informed twist? Try this trick I learned from the lovely ladies of The Beauty Department. Take a golden cream eye shadow, such as Shiseido Shimmering Cream Eye Color in Techo Gold, and dab just a bit in the center of both your top and bottom lip. Voila! You've got gorgeous red lips with a hint of gilded-gold texture.