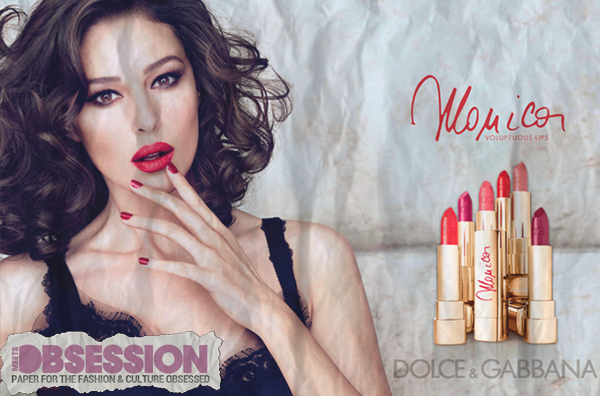 My first unofficial summer weekend was fantastic, due in large part to Dolce & Gabbana. Not only did I score an awesome pair of D&G sunglasses on major sale, I also discovered a new line of limited edition lipsticks that I absolutely LOVE.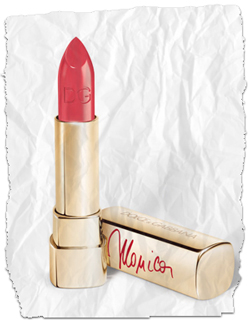 The colors in question were created by Italian screen siren Monica Bellucci, in collaboration with Domenico Dolce and Stefano Gabbana.
There are six beautiful shades that range from nearly nude to bold, bright red. My favorite is Only Monica: a creamy, coral pink that is perfect for fair faces like mine.
Each lipstick is moisture-rich, goes on super smooth and stays put without settling into lip lines. They are so amazingly hydrating—perhaps more so than any other high-end lipstick I've tried—and totally worth the $32 price tag (in my opinion, at least).
Needless to say, I'm obsessed with these luscious lippies, as well as with Ms. Bellucci herself.
Perhaps best known stateside for her role as Persephone in "The Matrix" sequels, the 47-year-old actress is still a bona fide bombshell—as evidenced in D&G's Spring/Summer 2012 campaign. Bella doesn't even begin to cover it.
The collection is available at select Saks Fifth Avenue stores or Saks.com.
And remember, it's limited edition, so you'll have to get a move on if you want to treat your lips to one (or all) of these cool, creamy shades.
---

Susan is a freelance writer, born and raised in NYC and currently based in Brooklyn. She's the senior beauty editor for Meets Obsession, and also writes for online publications such as Mamasarollingstone.com, TueNight.com.
and The Huffington Post. Susan had a serious candle hoarding issue that she has no plans to address. She's currently obsessed with Marc Jacobs' new beauty line, her black Zara moto jacket, and Aaron Paul.
All author posts