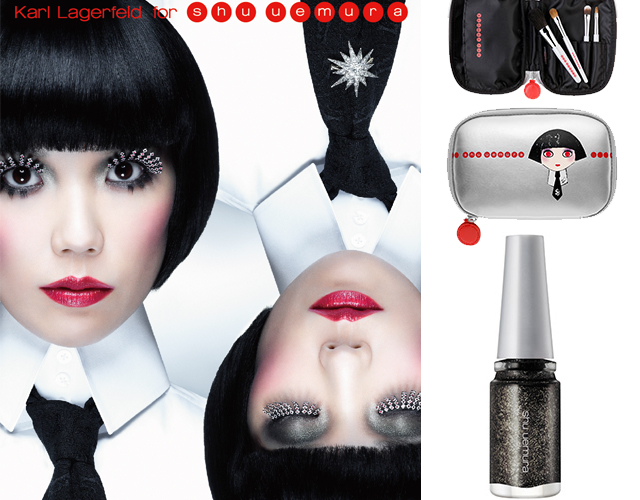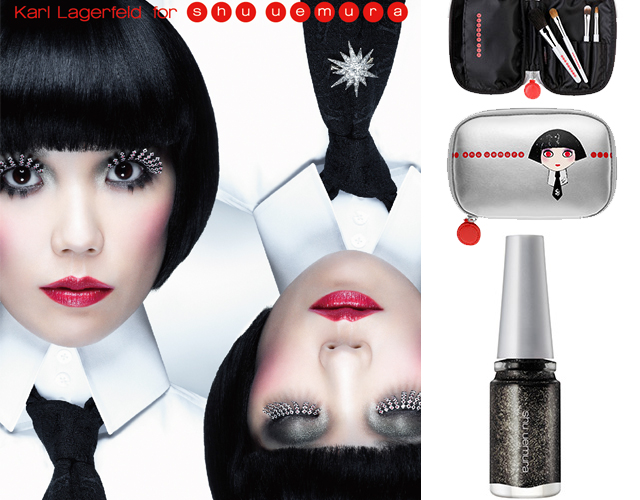 Finally, it's here: Karl Lagerfeld's limited-edition beauty collection for Shu Uemura.
The highly anticipated line launched this week, and we're flipping over every single piece. From this amazing Shu Rouge lipstick to this almost-too-adorable eyelash curler, the collection is all about whimsically packaged pieces and bold, iconic colors. We die.

The star of the collection is Mon Shu Girl – Lagerfield's makeup mascot for the line. The doe-eyed darling—who "escaped" from Karl's sketchbook to spread holiday sparkle around the world—is printed on all of the products.
You can witness her birth in this fun promo video,  and I've got to say, the whole Japan-pop meets Euro-chic vibe is immensely appealing. Sporting a sleek, ink-black bob and wearing her creator's signature black tie and white collar, Mon Shu is like a Lagerfeld Mini-Me disguised as a Geisha (of the playful, pop-art variety).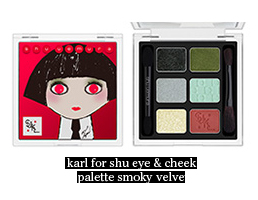 In terms of the makeup, I'm most obsessed with the Eye & Cheek Palette in Smokey Velvet. It contains six shades, my favorite of which is a glitter black shadow. I also love this eye liner pot, which is a satin purple shade that's perfect for the holidays.
And I think I might have to splurge on this Mon Shu mini brush set, if just for the super-cute case alone. Once again, Karl has killed it. Welcome to the world, Mon Shu!
---

Susan is a freelance writer, born and raised in NYC and currently based in Brooklyn. She's the senior beauty editor for Meets Obsession, and also writes for online publications such as Mamasarollingstone.com, TueNight.com.
and The Huffington Post. Susan had a serious candle hoarding issue that she has no plans to address. She's currently obsessed with Marc Jacobs' new beauty line, her black Zara moto jacket, and Aaron Paul.
All author posts