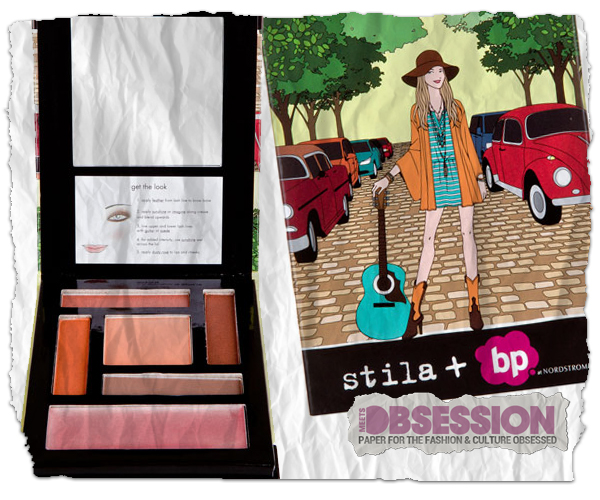 I love Stila because so much of their makeup comes with instructions. Good instructions, too—ones that I can understand and successfully imitate. I mastered my first self-administered smoky eye with the aid of this talking palette, and learned which eyeshadow shades best suit my skin tone thanks to this cool eye color set.
So now I'm getting my summer look set with Stila's super cute On the Road kit. It contains five warm-toned shadows that can be applied wet or dry, as well as a pretty pink cheek and lip stain. And I love the helpful how-to chart that sits inside the compact, which gives great direction for applying the color even if you're on the go.
Sets like this are great because you can carry around a complete look and make touch-ups at any time—without having to lug around a big, bulky makeup bag.
This is especially awesome during the summer when my plans are more spontaneous and I'm frequently on the move. All I really need to add are a packet of blotting papers, and I'm good to go.
---

Susan is a freelance writer, born and raised in NYC and currently based in Brooklyn. She's the senior beauty editor for Meets Obsession, and also writes for online publications such as Mamasarollingstone.com, TueNight.com.
and The Huffington Post. Susan had a serious candle hoarding issue that she has no plans to address. She's currently obsessed with Marc Jacobs' new beauty line, her black Zara moto jacket, and Aaron Paul.
All author posts