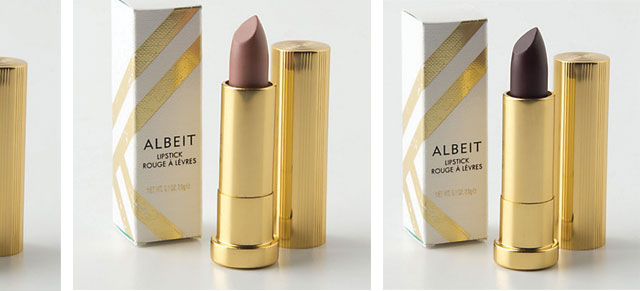 A gal can never have too many lipsticks. Which is why I'm beyond thrilled that Anthropologie  — one of my favorite retail chains for all things boho chic — has launched its very own line of them, called Albeit.
There are six shades total, ranging from fiery red to berry rose. Each color is infused with lip-soothing argan oil and vitamin E, and lives in a shiny gold, art deco inspired case. The packaging is true to the retailer's faux vintage flair, and reminds me of the makeup I used to play with in my grandmother's cosmetics case.
My current favorite color is Peony, a medium pink, because it's light, bright, and perfect for daytime. I also love Vermillion, which is a cool, retro crimson — very Great Gatsby glam and perfect for festive evenings out.
So the next time you're shopping for a shabby chic throw or a yellow-and-brown buckled hobo, check out Anthro's Albeit line. It's retro-glam lipstick at its best.
---

Susan is a freelance writer, born and raised in NYC and currently based in Brooklyn. She's the senior beauty editor for Meets Obsession, and also writes for online publications such as Mamasarollingstone.com, TueNight.com.
and The Huffington Post. Susan had a serious candle hoarding issue that she has no plans to address. She's currently obsessed with Marc Jacobs' new beauty line, her black Zara moto jacket, and Aaron Paul.
All author posts