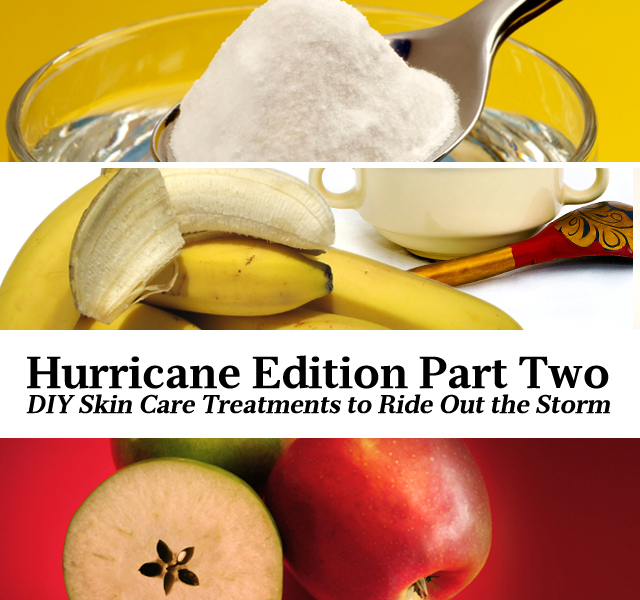 Last year, while Hurricane Irene descended upon New York City, I hunkered down with some mani and pedi essentials. This year, a sassy storm named Sandy is shutting down the city, and once again I'm making sure that I'm prepared.
Water? Check.
Flashlights? Check.
Non-perishable items that can double as beauty treatments? Check!
Because what better way to take advantage of idle time at home than to indulge in some DIY skin care? And as long as you're not compromising your stash of hurricane essentials, everything you need is probably in your pantry right now.
So go ahead—raid the kitchen, prepare a face mask or five, and relax. Sandy's not going anywhere, and unfortunately, neither are you.

Banana and Oatmeal Face Mask

What It Does: Evens and brightens skin tone, soothes dry skin, exfoliates and moisturizes
What You Need: 1 banana, 1 cup oatmeal, ¼ cup whole milk
What to Do: Use a spoon to mash the banana into a thick paste. Place in a bowl and mix in the oatmeal and milk. Once thick, apply to your face and leave on for 15 minutes. Rinse with warm water. [divider]

Sugar Lip Scrub

What It Does: Exfoliates, moisturizes, prevents chapping
What You Need: ¼ teaspoon olive oil, 1/8 teaspoon brown sugar
What to Do: Mix ingredients together in a small bowl. Apply by massaging the scrub onto lips with your index and middle finger. Rinse off excess grains with a damp washcloth. [divider]

Apple Cider Vinegar Toner

What It Does: Reduces redness, treats acne
What You Need: Apple cider vinegar
What to Do: Add 2 tablespoons of vinegar to one cup of water to dilute. Apply to face with a cotton ball. If you have extra oily skin, La Bella Figura's Victoria Fantauzzi suggests infusing with thyme sprigs; if your skin is dry and sensitive, use rose petals and lavender. [divider]

Milk Bath

What It Does: Exfoliates and moisturizes
What You Need: Two cups whole milk
What to Do: Add two cups of milk while bathwater is running. Soak in tub for at least 20 minutes; scrub skin lightly with a loofah or washcloth for maximum exfoliation. Rinse thoroughly. [divider]

Baking Soda Hair Mask

What It Does: Removes residue and product build-up, clarifies, adds shine and volume
What You Need: One tablespoon baking soda
What to Do: Add 2 tablespoons of baking soda to one cup of water. Stir into a paste. Apply to damp hair and leave on for 20 minutes. Shampoo out and follow with a conditioner. [divider]
---

Susan is a freelance writer, born and raised in NYC and currently based in Brooklyn. She's the senior beauty editor for Meets Obsession, and also writes for online publications such as Mamasarollingstone.com, TueNight.com.
and The Huffington Post. Susan had a serious candle hoarding issue that she has no plans to address. She's currently obsessed with Marc Jacobs' new beauty line, her black Zara moto jacket, and Aaron Paul.
All author posts