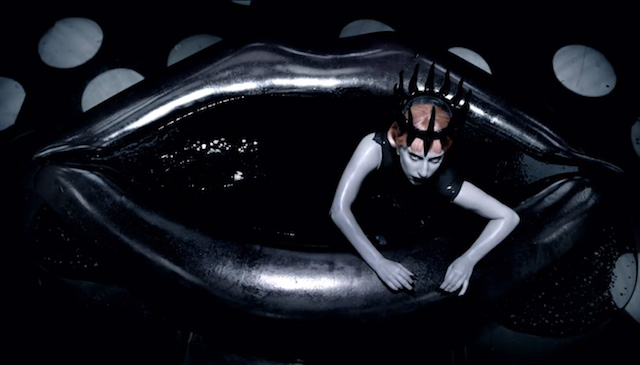 Ever wonder what it's like to be inside of Lady Gaga's vast and creative mind? Well, if you've been wondering, the short film for her new fragrance FAME should give you some clue.
The abstract film is directed by fashion photographer Steven Klein, who has shot high profile campaigns for fashion houses like Alexander McQueen and Calvin Klein, and is also known for his edgy and risqué take on whoever his subject is.
In this case, he makes us see Gaga as a colossal, idol set in the backdrop of an abstract future. The 5-minute video begins with a "warning" message blinking in red and then a blood-curling scream following after.
From there we're taken into a world of dark surrealism that has hooded figures,  crawling naked muscular men and the first verse of "Scheiße" on repeat. There's even a cool black liquid-like animation of Gaga that reminds us of Blur Vision's opening sequence in "Dragon Tattoo."
For those of you who want a direct answer to what the film is about, Klein told Vanity Fair, "It's the idea of the pleasures and pain of fame, and the temptation of fame. What is it like to embark on the journey of fame, and what are the costs of fame?"
The film debuted on September 13th during the launch of her perfume at the masquerade ball in New York's Guggenheim Museum. The black tie and mask event was attended by Marc Jacobs, shoe designer Brian Atwood, Alexander Wang, Olivier Theyskens, model Jessica Stam, Jason Wu, Michael Strahan and Yoko Ono.
To commemorate the event, Gaga got her newly shaven head tattooed with a cherub by Mark Mahoney, whose known for his masterful techniques in black and white tattoos.