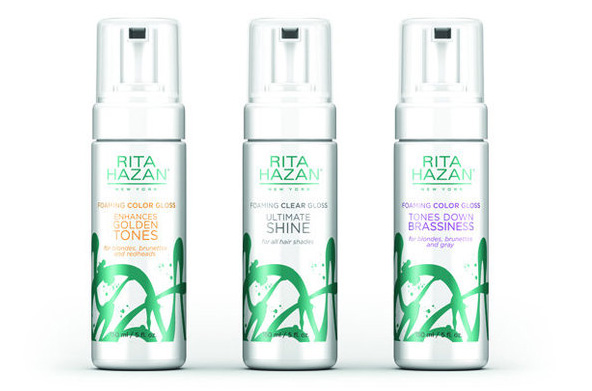 This past weekend, my best girlfriend and I decided to get away from it all at the King & Grove hotel in Williamsburg. We parked ourselves poolside for the majority of our stay, and I kid you not when I say that I felt so wonderfully far from home. (Reality: my apartment was 3.48 miles away). Hooray for the staycation!
Since summering in the city isn't always ideal, we weren't going to waste a minute of our precious pool time. I spent hours doing my best Missy Franklin impression, and while I had a blast, my hair most definitely did not. There's no worse color killer for highlighted hair than an intense chlorine and sun combo.
Thankfully, my friend had an instant fix on hand: Rita Hazan's Tones Down Brassiness Foaming Gloss. She had recently used it on her own highlights and was in love with the results. It removed the redness from her blonde on brown streaks, bringing them back to almost the exact same color they were when she first got them done more than a month ago.
So I gave it a try and I have to say: This stuff really works. Not only did it greatly de-brassify my own blonde, but it also left my hair oh-so-shiny without feeling heavy at all (which is what I dislike about so many of the at-home hair glosses that I've tried).
The foam is so easy to use—you totally don't have to worry about missing spots. Plus, you apply it before you condition, which I think goes a long way toward making the end result so lightweight and coat-free.
So even though I'm totally due for a touch up, I think I'm going to hold out for another month. Now that I know about this fantastic foam, I might as well subject my color to just a little bit more abuse for the sake of summer fun.
---

Susan is a freelance writer, born and raised in NYC and currently based in Brooklyn. She's the senior beauty editor for Meets Obsession, and also writes for online publications such as Mamasarollingstone.com, TueNight.com.
and The Huffington Post. Susan had a serious candle hoarding issue that she has no plans to address. She's currently obsessed with Marc Jacobs' new beauty line, her black Zara moto jacket, and Aaron Paul.
All author posts