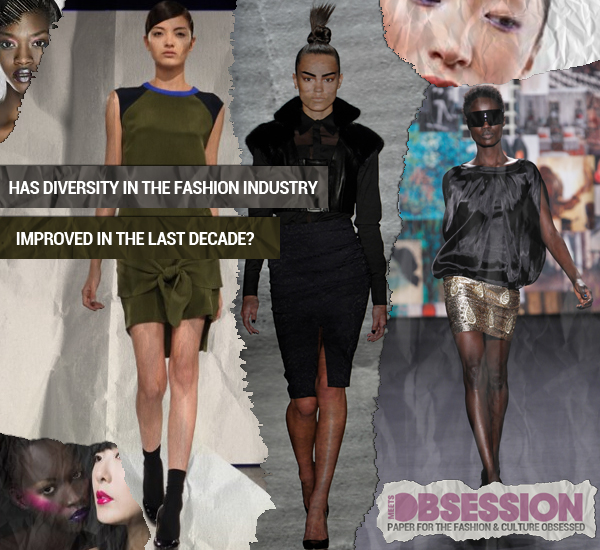 Designers that use diverse models on the runway include Nomia (left: photo courtesy of Nomia), Kevork Kiledjian (center: photo courtesy of Kevork Kiledjian), Tracy Reese (right: photo courtesy of Tracy Reese)
[divider]
[dropcap]W[/dropcap]hen it comes to diversity, America is often regarded as a melting pot of cultures, backgrounds and colors.
Obama is up for re-election, and Oprah is one of the most powerful players in pop culture. But as fashion weeks are wrapping up all over the world with runways—and photo shoots— awash with white faces, has the fashion industry really become that diverse?
January 10 through the 14, 2012 was the Rio de Janeiro Fashion Week and, according to the Daily Glow, it was one of the whitest events of the season, even though Brazil "has the largest black population next to Nigeria."
Of the 200 female models employed by Rio's 40 Degrees Modeling Agency, only eight of them were black women. A quick scroll through their model listing shows a sprinkling of dark skinned faces amid rows upon rows of white and light-skinned ones.
Luana Genot, a model and advertising student at Rio Catholic University, told Agence France-Presse that she is only called if an event is connected to black culture.
Genot added that the few times she did get a fashion week gig, she was "chastised" for the texture of her hair and the makeup requirements necessary to match her skin tone.
However, this year's fashion week in New York was reportedly more racially diverse than it's been in years.[pullquote_right]Models of color finally topped 20% of the models booked for fashion week shows.[/pullquote_right]
Jezebel's Jenna Sauers reports that, "models of color finally topped 20% of the models booked for fashion week shows."
Of the 141 shows Style.com covered this year, "20.1% went to models of color." As opposed to the Spring 2008 collection presentations where over two thirds of the 101 shows employed zero black models (New York Times, October 2007).
"I've seen a lot more diversity in fashion over the years" Michael Solomon, a consumer psychologist and the Director of the Center for Consumer Research for Haub School of Business at Saint Joseph's University, told Meets Obsession. "I attribute this to demographic changes; (the U.S.) population is a lot more diverse than it used to be as the numbers of African American, Hispanic American and Asian American consumers grow."
In fact, African Americans spend an estimated $26.9 billion a year on fashion (according to TradeMarketNews.com). "Representatives of these subcultures are starting to gain more power in business," explains Solomon. "Obviously they're not on par with Caucasians yet—but I think media executives are more aware of the need to provide a range of 'templates' when they run fashion spreads, film commercials, cast TV shows, etc."
[pullquote_left] Marketers have learned that there are huge underexploited markets in cosmetics and other personal care products for women of color.[/pullquote_left]Of all the ethnicities, Asian faces made up the second highest during NYFW (after Caucasian), but black models were a close third. Diane von Furstenberg, Betsey Johnson, and Tracy Reese were three of the designers whose shows "had numerous models of color," along with Tommy Hilfiger "whose shows have not always been terribly diverse," reported Jezebel.
Calvin Klein, on the other hand, used one black model out of 33. The rest were white. The Olsen Twins' Row and Reed Krakoff, formerly of Coach, featured entirely white casts.
In the print world, this month's Vogue Italia features Joan Smalls on the cover. She is the first non-Caucasian woman to grace the cover in nearly half a decade.
A positive step, but a small one, which Solomon attributes to the fact that "marketers have learned that there are huge underexploited markets in cosmetics and other personal care products for women of color. Everyone is rushing to adopt a 'diversity' or 'multicultural' marketing strategy," in order to tap into this market.
Between the late 1980s and early '90s, Solomon did a series of studies involving the editors of major fashion magazines and the language they used to describe different types of beauty.
"I found that there were about six dominant categories used to classify models; one of which was 'exotics.' Referring to any non-white woman –or a code word," says Solomon.  He doubts that today—if he were to do the same study in 2012—"that all non-Caucasian models would be lumped into one category."
Progress is being made every day by many well known and loved designers, but America, and the world at large, still has a long road ahead before runways—and fashion magazines— reach equal levels of diversity.