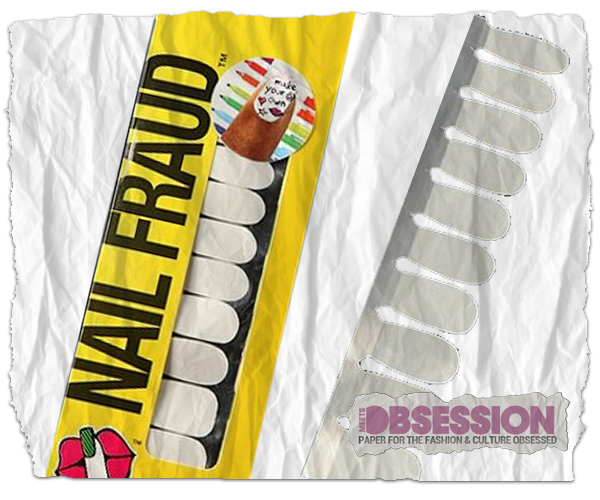 Who doesn't love the nail strip craze that has invaded beauty aisles over the past few years?
The easy-to-use nails strips are a fun and unique way to look like you just got a custom manicure without spending the dough, or time, and these days, there are so many cool design options (Oh, hello Prabal Gurung nail strips!)
For those of us that feel creatively weakened by nail strips, fear not. Nail Fraud strips, available at Urban Outfitters, are for those that just need to express ourselves in ways other than glitter, stripes and what happens to be available at your local CVS or Duane Reed.
Each strip is blank, which leaves you with the ability to hold a coloring session before the application to your nails.
These blank strips are perfect for those of us who have a message to get across—think LiLo's infamous "F*ck U" nails that she donned in the courtroom.
Each pack comes with 20 strips for size differentiation as well as an emery board and orangewood stick.
At a slightly higher price than Sally Hansen, these strips can be bought for $14 here.
What will your nail design say?
---

Bridget is a writer, stylist, and vintage clothing dealer based in Kennett Square, Pennsylvania. Bridget enjoys spending time with her boyfriend and guinea pig, and in her spare time sells vintage at local flea markets . Bridget is currently obsessed with Zooey Deschanel's wardrobe on New Girl, Moroccan food, and microcars.
All author posts