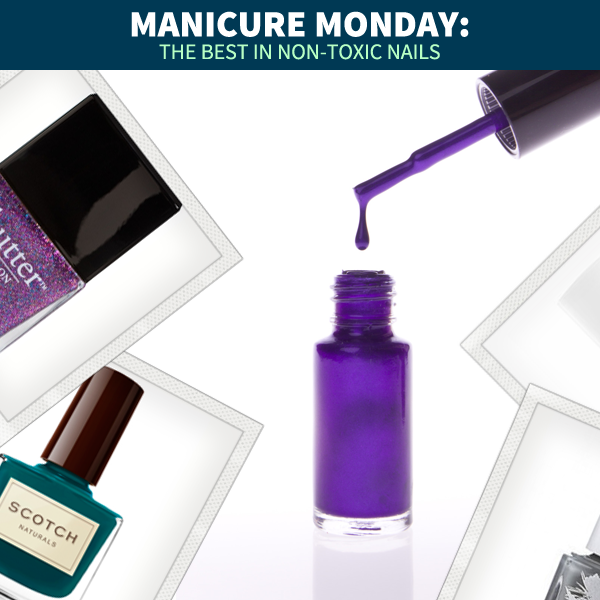 As I become more conscious of the ingredients in my beloved beauty products, I'm learning to seek out the safest choices wherever I can. However, it's a challenge to find products that are both environmentally sound and effective, especially when it comes to nail polish.
But it is possible. There are quite a few brands that boast formulas free of the three main carcinogens found in most polishes: formaldehyde, toluene and dibutyl phthalate (DBP). So I'm making it my mission to go as green as possible with my nail colors this fall.
Below, we've put together a list of five non-toxic shades that we're swooning over for Fall.
Made from wood pulp, wheat, cotton, potatoes and corn, this French import's formula is 85% natural.  It's also free of synthetic camphor — another nasty chemical often found in mainstream polish.

Priti NYC is an eco-friendly favorite on the runways — designers such as Donna Karan, Rachel Roy, and Proenza Schouler have all used it during their New York Fashion Week presentations.

 

Perhaps one of the best-known 3-free brands, Butter London has had a lock on non-toxic nail care since 2005.  I love their entire fall 2012 line, but this festive, sparking purple is my favorite of the bunch.

Acquarella is great for eco-conscious gals on the go. It dries to the touch in less than three minutes, and there's also no need for a base coat — the water-based formula hydrates the nail, preventing it from yellowing and peeling.

An eco-friendly alternative in more ways than one: The polish is packaged in a recyclable glass bottle and the formula itself is biodegradable.
Tags:
Acquarella
,
Kure Bazaar
,
Priti NYC
,
Scotch Naturals