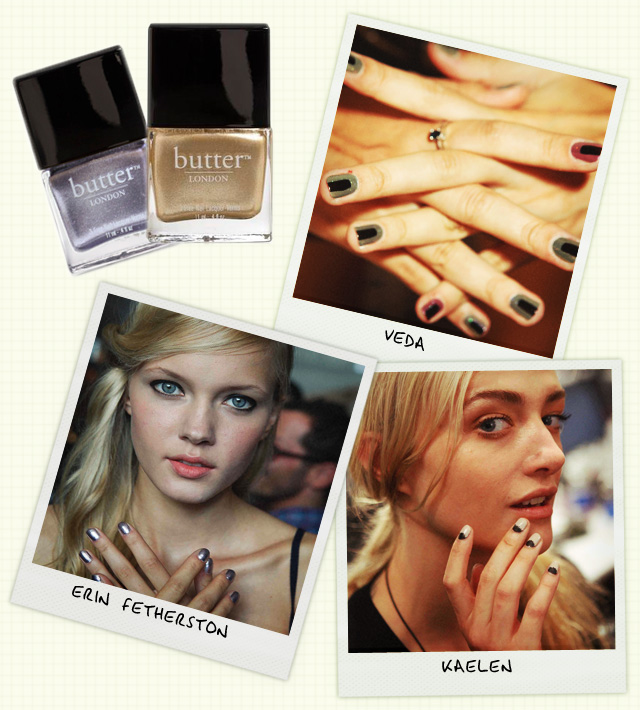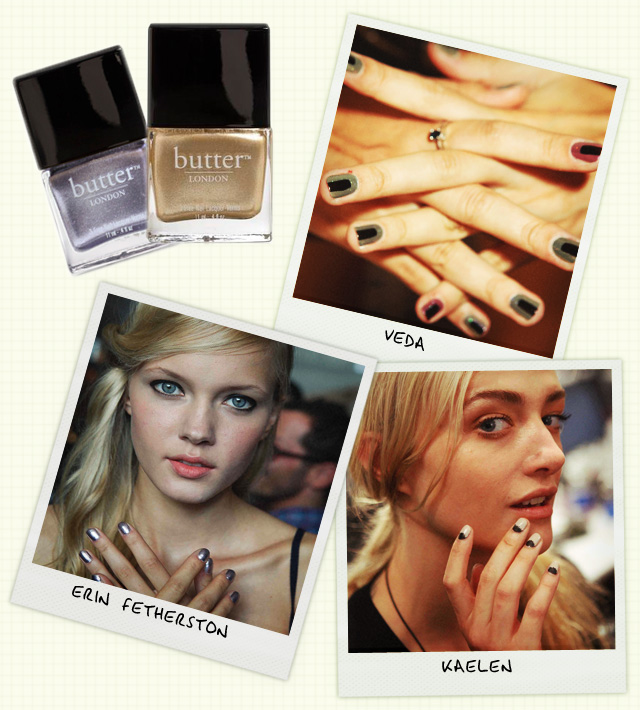 Fashion Week may be over, but we're still fixated on all the amazing beauty looks that graced the Mercedes-Benz runway. And probably will be for weeks (and weeks!) to come.
Being a big fan of non-toxic nail polish, I'm currently obsessing over three Butter London manis that were created for the catwalk by Katie Hughes, Global Colour Ambassador for the brand.
The first was at Erin Fetherston, where nails were the ultimate accessory. Models wore next to no jewelry, which kept the focus on the gunmetal manicures. The look was created with two metallic shades: Lillibet's Jubilee, a silvery lavender, and The Full Monty, a full-on molten gold. We love.
Over at Kaelen, a minimalist and fairly monotone collection was accented with high contrast, "distressed" nails. Union Jack Black was applied as a base coat, with medium-beige Yummy Mummy layered on top in jagged strokes. A Matte Finish Top Coat was applied only to the jet-black bursts by the base of the nail, creating a cool dual texture effect.
My favorite Butter London look was for leather-centric label Veda, where texture and tie-dye ruled. Katie Hughes created a custom "cosmic" nail, with olive and mauve shades resting under a bold black stripe. Khaki-colored Sloane Ranger was used on every nail but one; Toff, a dark, dusty pink, was used for the accent. A sheer, glittery coat of Knackered added a touch of trippy sparkle, and Union Jack Black created the finishing geometric touch.
Are you obsessing over any runway nail art? Do tell! Or snap some pics of your own amazing manis and share them with us on our Facebook page!
---

Susan is a freelance writer, born and raised in NYC and currently based in Brooklyn. She's the senior beauty editor for Meets Obsession, and also writes for online publications such as Mamasarollingstone.com, TueNight.com.
and The Huffington Post. Susan had a serious candle hoarding issue that she has no plans to address. She's currently obsessed with Marc Jacobs' new beauty line, her black Zara moto jacket, and Aaron Paul.
All author posts