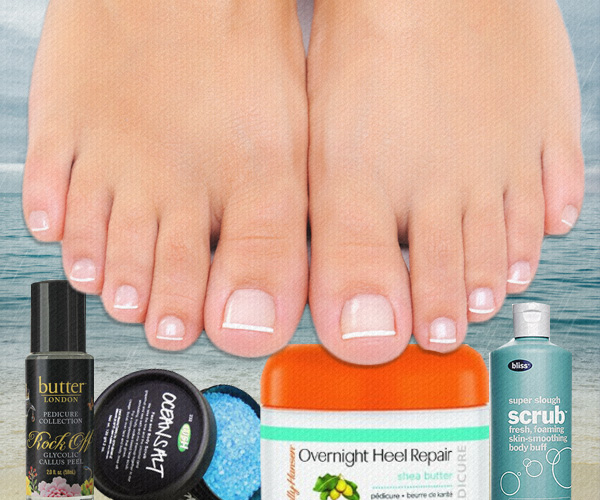 Whether you're a regular at the nail salon or prefer to paint your toes in private, it's important to keep feet pedi ready during the hot summer months.
Callouses, corns and cracked heels are just a few of the icky (and uncomfortable) issues that can trouble neglected tootsies, but showing your feet some love on a regular basis will go a long way toward keeping them presentable.
It's basic maintenance: just as you wash your face and brush your teeth, so should you scrub, slough and smooth your lower digits on the regs.
In between pedicures, we suggest these products for keeping feet in check.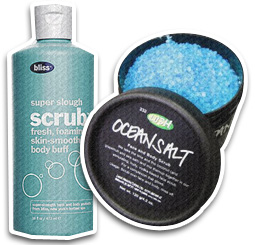 Bliss Super Slough Scrub and Lush Ocean Salt Face and Body Scrub
I keep both of these my shower—that's the easiest time to exfoliate. The Bliss scrub is a terrific cleansing/exfoliating combo; I use it regularly to keep my feet fresh and free of callus build-up.
For serious scrubbing, I love Lush's Ocean Salt Scrub. Though it's gentle enough to use on your face, it also works really well on hard heels and that pesky pad of skin right under the big toe.
[divider]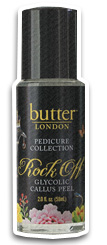 Butter London Rock Off Glycolic Callus Peel
This is a great pre-game peel for DIY pedicures. Alpha-hydroxy acids work instantly to melt hard skin away, and the roller-ball applicator makes it easy to target extra tough spots.
[divider]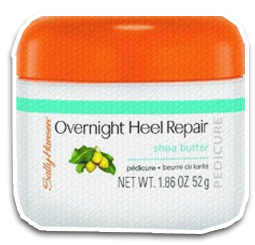 Sally Hansen Overnight Intensive Heel Repair
Rock hard heels are no match for this intensive repair cream. Use it nightly if your feet are extra dry, or 2-3 times a week to keep calluses at bay. I like to slather it over my soles and cover in plastic wrap while watching TV or reading.
[divider]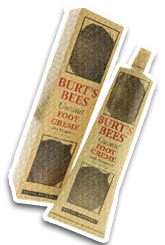 Burt's Bees Coconut Foot Creme
Nothing beats this lotion's coconut scent and its tingly, peppermint extracts.
[divider]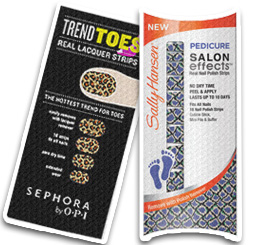 Sephora by OPI Trend Toes and Sally Hansen Pedicure Salon Effects Nail Polish Strips
At-home nail art strips are perfect for adding texture to your toes. Plus, they require no dry time and last up to 10 days.
My two favorites are OPI's Cheetah Sparkle and Sally Hansen's Snake, Rattle and Roll.
---

Susan is a freelance writer, born and raised in NYC and currently based in Brooklyn. She's the senior beauty editor for Meets Obsession, and also writes for online publications such as Mamasarollingstone.com, TueNight.com.
and The Huffington Post. Susan had a serious candle hoarding issue that she has no plans to address. She's currently obsessed with Marc Jacobs' new beauty line, her black Zara moto jacket, and Aaron Paul.
All author posts