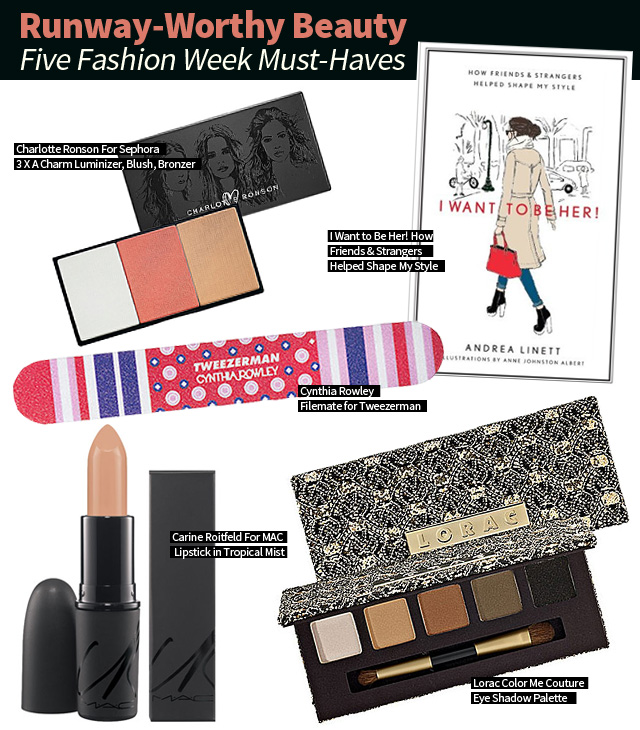 One of the great things about living in New York City is being just steps (or a subway ride) away from some of the most exciting fashion and beauty events in the world. And early September is an especially fabulous time thanks to a little something called New York Fashion Week.
Every year I thank my lucky stars that I live oh-so-close to the excitement, and every year I feel so grateful to have a job that puts me inside the tents. It's an amazing insider's privilege, for sure.
But anyone can participate in the thrill that is fashion week—really, it's all about attitude! So, to get you into the spirit with all things chic and stylish, we're sharing our five beauty must-haves that will make you feel Fashion-Week fabulous.
Carine Roitfeld For MAC Lipstick in Tropical Mist
The former Vogue Paris editor — and all-around fashion mogul — can now add beauty boss to the list of her chic achievements. This neutral lipstick is from her new capsule collection for MAC, and it's the perfect light shade to pair with a dramatic, catwalk-inspired eye.
Lorac Color Me Couture Eye Shadow Palette
Get runway ready with Lorac's shimmery shadow palette, which features five colors infused with mother of pearl. I especially love the black, which is flecked with little gold specks and works great for creating a sexy smoky eye.
Charlotte Ronson For Sephora 3 X A Charm Luminizer, Blush, Bronzer
Charlotte Ronson has created such a cool collection of beauty goods for Sephora, and this three-in-one glowifier is my favorite of the bunch (and you know how much I love bronzers!). Blend all three shades for a radiant, model-worthy flush.
Cynthia Rowley Filemate for Tweezerman
You never know when you might nick a nail, so it's always good to have a file handy. This one is adorned with a Cynthia-Rowley-designed print—a trés chic way to get groomed on the go. I also love her Mini Slant Tweezers, which are perfect for plucking sudden strays.
I Want to Be Her! How Friends & Strangers Helped Shape My Style by Andrea Linett
I love Andrea Linett! The Lucky mag cofounder and fashion editor extraordinaire (also current global creative director for Michael Kors) has penned this totally cool style companion, which is based, in part, on her awesome blog. It's also filled with memoir-style tales of her fabulous life in fashion, all of which are told with wit, insight, and of course, serious style. It's a coffee-table must for any fashionista.
Tags:
Andrea Linett
,
Carine Roitfeld
,
Cynthia Rowley
,
Lorac
,
M-A-C
,
MAC