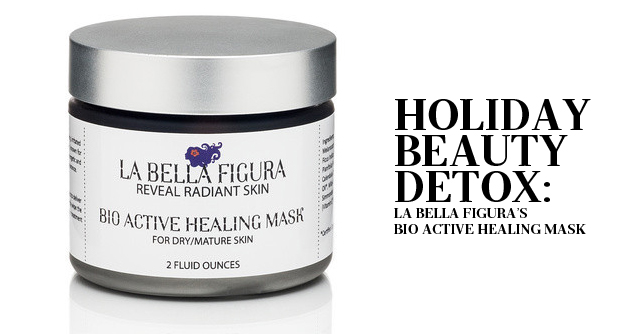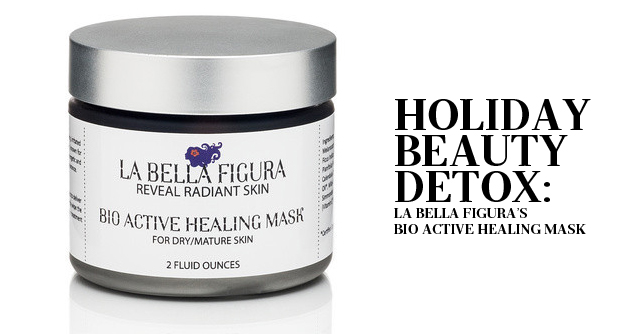 With the holidays in full swing, it's easy to get caught up in excess. Festive cocktails, indulgent sweet treats, late nights spend in merriment – you know, the standard celebratory fare.
While my days of over-imbibing are over, I still suffer from the occasional hangover. Only now they are of the dermal variety — the dry winter air is not a friend to my sensitive skin, and the late nights and extra makeup only exacerbate the issues.
Thankfully, I have a new detoxifying facemask to add to my list of favorites, and I can honestly say it's one of the best, most instantly effective treatments I've ever used. Plus, it's from the lovely ladies at La Bella Figura, which means it's filled with all-natural goodies that are free of chemicals and won't irritate my skin.
Made with makula honey, which is known for its anti-bacterial properties and healing abilities, LBF's Bio Active Healing Mask is an amazing product. Not only was my skin noticeably smoother and more evenly textured after using it, but it also felt so unbelievably clean. I have had this feeling before, but never without that dreaded skin-tightening sensation. Not so with this mask. My face was smooth AND truly supple—so much so that I probably could have gotten away without using moisturizer pre-makeup application (but I didn't dare).
As with all of La Bella Figura's products, the list of ingredients is impressive (and so fun to read!). Organic aronia berry, Amazonian white clay and organic jasmine flowers work together to replenish the skin's vital nutrients and encourage new cell growth. Barbary fig seed oil, calendula extract and the essential oil of jasmine calms redness, evens skin tone, and cleanses the skin of impurities. And the smell is heavenly.
I recommend steaming your face before applying—I used this lovely Healing Facial Steam Tea and am convinced it added to my fantastic results. And if you're looking to give the gift of amazing skin this holiday season, LBF has just the thing: this Holiday Healing and Glow Kit, which contains the mask plus a few other skin-saving goodies, all packaged in a pretty patterned cosmetics case.
I'm telling you—try this. If your skin needs a holiday detox, this facemask is just the thing.
---

Susan is a freelance writer, born and raised in NYC and currently based in Brooklyn. She's the senior beauty editor for Meets Obsession, and also writes for online publications such as Mamasarollingstone.com, TueNight.com.
and The Huffington Post. Susan had a serious candle hoarding issue that she has no plans to address. She's currently obsessed with Marc Jacobs' new beauty line, her black Zara moto jacket, and Aaron Paul.
All author posts