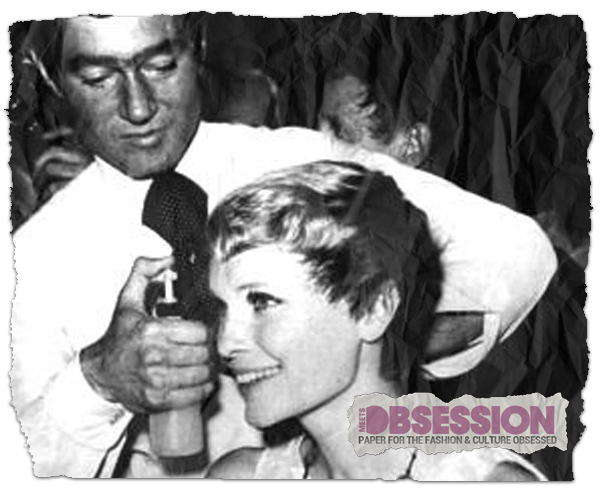 Photo of Sassoon cutting Mia Farrow's hair for her role in "Rosemary's Baby" (Fashion World)
Over the past few of weeks, we've lost some truly amazing talent, many of whom played key roles in my childhood.
As a toddler learning to toddle during the late 1970s, I spent hours dressed up as Really Rosie, singing Maurice Sendak's Chicken Soup With Rice.
As a native New Yorker coming of age in the eighties, I grew up with the Beastie Boys' (most obsessively, "Paul's Boutique") as one of my major musical backdrops. In fact, I'm still trying to wrap my mind around the untimely death of Adam Yauch, a man who blended compassion, courage, hard rhymes and humor in a way few entertainers ever have.
But as a beauty editor, the passing of Vidal Sassoon marks a monumental moment in the industry I've come to love as an adult. The hairdressing pioneer paved the way for women to wash and wear—and look all the more marvelous because of it. From Mia Farrow's very public pixie cut to Nancy Kwan's killer bob, Sassoon created simple, chic styles that freed women from the hell of hot rollers and endless hours at the salon.
"It's Vidal Sassoon," said Rosemary Woodhouse of her new cropped cut in Polanki's 1968 smash Rosemary's Baby. "It's very in."
Sassoon was also one of the first celebrity stylists to become a celebrity himself, setting the stage for hair-care heavies such as Sally Hershberger, Frédéric Fekkai and John Frieda. His ingenious branding of tress-taming products brought salon luxury into home showers, establishing a major market for stylist stamped product.
And now that I think of it, Vidal Sassoon did make some small appearances in my upbringing. The window by my mom's shower was lined with bottles of this now defunct finishing rinse; all I have to do is take one look at that brown bottle with it's oval logo and it's like I'm transported back in time.
Also, the man certainly knew how to advertise, and as a kid who watched a ton of TV, I remember this 80s ad well. I wasn't even old enough to really care about my hair, but I did know this: Vidal didn't look good unless I looked good.
Thank you, Vidal!
---

Susan is a freelance writer, born and raised in NYC and currently based in Brooklyn. She's the senior beauty editor for Meets Obsession, and also writes for online publications such as Mamasarollingstone.com, TueNight.com.
and The Huffington Post. Susan had a serious candle hoarding issue that she has no plans to address. She's currently obsessed with Marc Jacobs' new beauty line, her black Zara moto jacket, and Aaron Paul.
All author posts