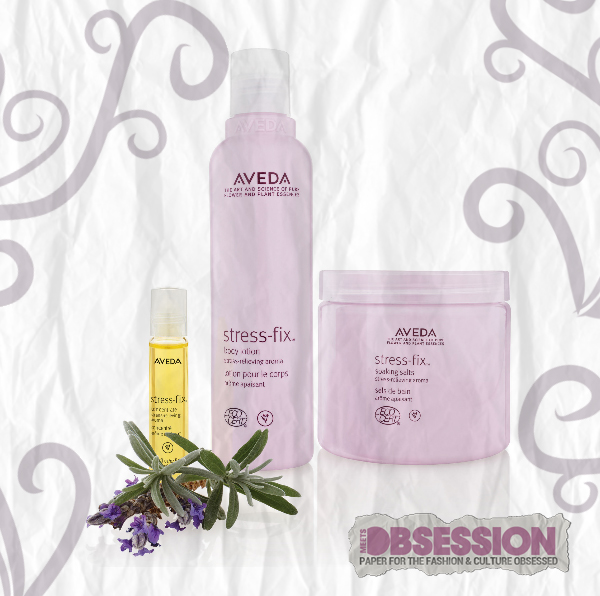 Stress sucks. And I don't have a history of dealing with it very well. But I'm learning, and recently I've found my favorite aromas to be incredibly potent tensions tamers.
I've already spoken about my obsession with vanilla. However, I should also mention that I really love lavender, especially when it comes to calming my nerves. So I was psyched when I received this Less Stress Is A Gift set last week. It's from Aveda and contains a bottle of body lotion, a tub of bath salts, and a calming, roll-on concentrate from the brands' new Stress Fix line.
In addition to lavender, lavandin (which has been proven to ease anxiety) and clary sage are combined to give these products their soothing scent.
I'm a big fan of the bath salts, which can also be used as a scrub. I've also been using them to stuff sachets, because putting on a Stress-Fix-scented t-shirt or tank most definitely helps mellow me out in the morning.
I really like this line because while the smell is effective, it's also light, so I don't feel like a walking bowl of potpourri. And that's important, because I find that a lot of "calming" products tend be over the top odor-wise. These three anxiety easers most definitely do not offend.
Now, if you'll excuse me, I'm off to escape into my own Stress-Fix sauna (i.e. a super hot bath, sprinkled with salts). It's Monday, after all.
---

Susan is a freelance writer, born and raised in NYC and currently based in Brooklyn. She's the senior beauty editor for Meets Obsession, and also writes for online publications such as Mamasarollingstone.com, TueNight.com.
and The Huffington Post. Susan had a serious candle hoarding issue that she has no plans to address. She's currently obsessed with Marc Jacobs' new beauty line, her black Zara moto jacket, and Aaron Paul.
All author posts