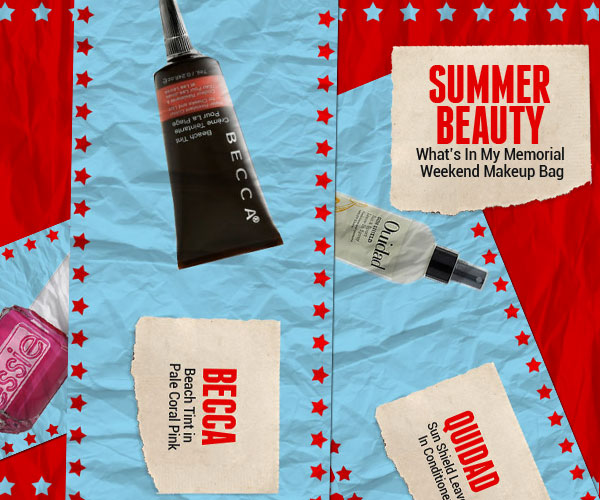 Finally, summer is here.
How are you celebrating the sunshine?
I've planned a spectacular stay-cation for this Memorial Day weekend, complete with beach time, books and some much-needed R&R. And I won't be leaving home without these awesome items, stashed away in my sweet new makeup bag.
Even the lightest foundations can feel caked on in the sun, but going without often means looking shiny and splotchy. This BB cream is my perfect compromise—it adds glow, evens out skin tone and controls oil, without feeling hot or heavy.
A cool powder-gel combo that gives my face a fantastic, sun-kissed flush.
This water-resistant tint gives my lips natural-looking color without drying them out, which is particularly hard to do in the heat.
My nail color gets nicked so often in the summer, so I always have polish on hand for quick fixes. This shade is the perfect pop of pink for summer.
My skin isn't the only thing that needs protection from the sun. UV rays wreak havoc on my colored hair, as does chlorine, sea salt and sand. This fantastic smelling spray—which is especially effective for curly girls—helps me maintain a healthy mane.
I don't care that it's for kids. Coppertone's spray-on sunblock is all I ever use for my body—it goes on evenly, protects my super pale skin and smells, to me, just like summer.
---

Susan is a freelance writer, born and raised in NYC and currently based in Brooklyn. She's the senior beauty editor for Meets Obsession, and also writes for online publications such as Mamasarollingstone.com, TueNight.com.
and The Huffington Post. Susan had a serious candle hoarding issue that she has no plans to address. She's currently obsessed with Marc Jacobs' new beauty line, her black Zara moto jacket, and Aaron Paul.
All author posts