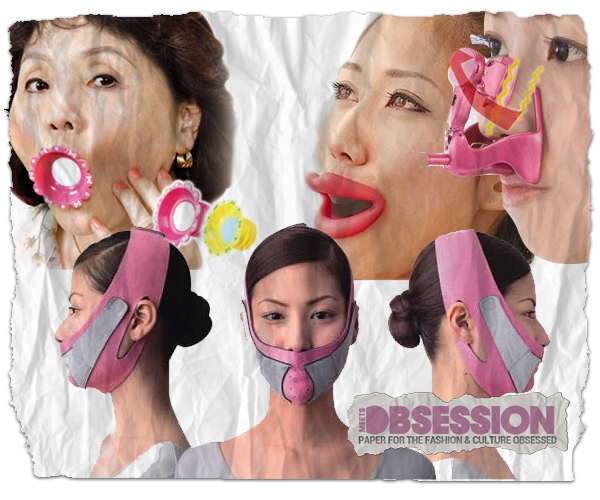 Top left to bottom right: Pupeko Anti-Aging Mouthpiece, Face Slimmer Exercise Mouthpiece,  Beauty Lift High Nose, Kogao! Smile Lines Face Belt (Japan Trend Shop)
I'm not sure what's stranger: a smile-line smoothing face belt or a big pink mouthpiece that wards of wrinkles.  Although I have to admit, if I knew for a fact that either of these items really worked, I'd probably be wearing one (or both) of them right now.
These bizarre beauty buys—as well as many others—can be found at the Japan Trend Shop, an online store that I wasted hours on the other day. It's amazing just for entertainment value alone, as I believe this vibrating nose clamp makes clear.
And I defy you to find anything as ridiculous as this face-slimming mouthpiece, which— lets face it—looks just like a sex toy.
But I also find this site to be oddly intriguing, and I can't help but wonder if these silly-looking specs really can de-age my face.
Or if this Beauty Voice Trainer really can get my vocals into prime karaoke condition.
Do I dare to take a chance and find out?
Tags:
Japan Trend Shop