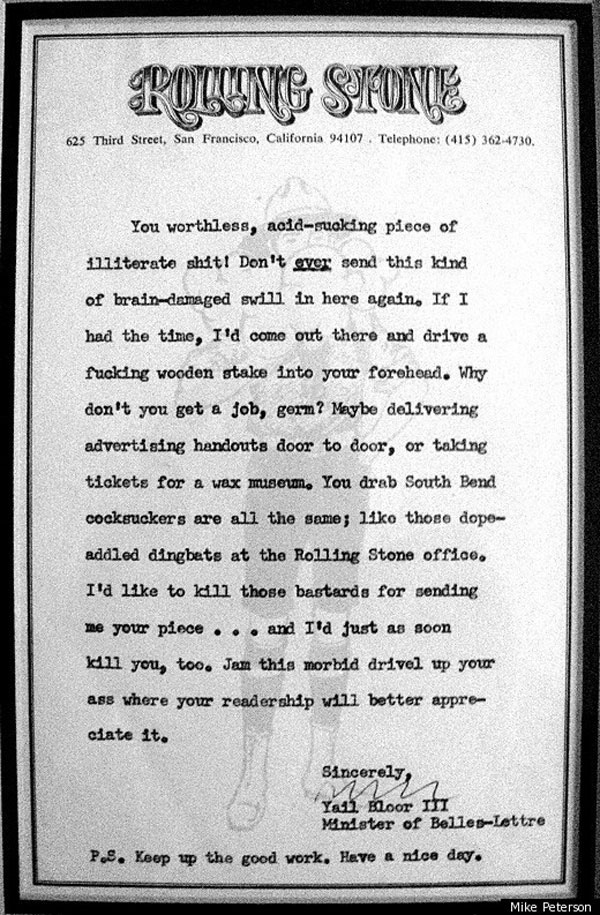 Have you ever written to your idol to let them know how much you admire them?
The above letter proves that you might want to think harder before sending a letter of adoration to your favorite writer/actor/celebrity/musician.
This may shock you, but just because you really liked an artist's latest video, doesn't mean they are about you or your general existence.
A few rules of thumb:
1.) Don't take a photo of Tommy Lee or ask to take a photo with TL. Seriously. And be warned, if you just casually say hello, you could be inviting yourself onto Lee's sex swing.
2.) Be wary of reaching out to Hunter S. Thompson, 'cause he might call you a "worthless, acid-sucking piece of illiterate shit." Though we hope that writer framed those kind words and hung it in his worthless, acid sucking house.
Head over to Flavorwire to read  more letters.
---

Caroline Cullen is currently obsessed with Dirty Shirleys, Pauly D's pecks, and Gordon Ramsay's Kitchen Nightmares on BBC.
All author posts