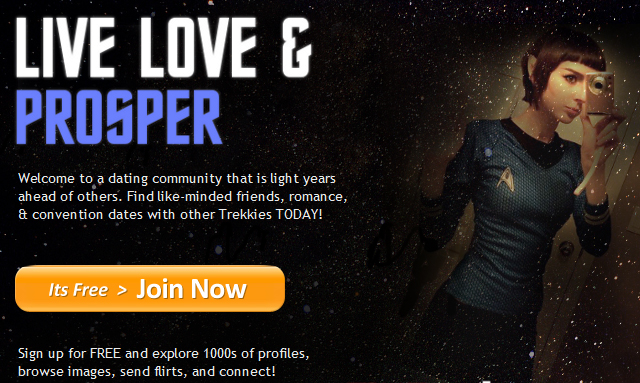 Let's face it, you've tried winking at the hotties on Match.com, tried connecting with the ready-to-settle-down dudes on eHarmony, and now you're officially ready-to-settle.
Even after downgrading to websites like OK Cupid, Just Lunch and Zoosk, you're still not finding the love of your life.
If you've hit rock bottom of singledom, it's time to head over to TrekkieDating.com.
And yes, it is a real site.
Full of Spock selfies and hopeless, seething desperation, Trekkie Dating ensures that you will find someone.
The users of this site are surely lonely sitting around intimately touching their action figures of William Shatner – and you'll be the answer to their prayers!
Time to grab the reins on your dating life and go all science-fiction on it.
Now, go out and find your geek dreamboat and live long and prosper.
---

Caroline Cullen is currently obsessed with Dirty Shirleys, Pauly D's pecks, and Gordon Ramsay's Kitchen Nightmares on BBC.
All author posts