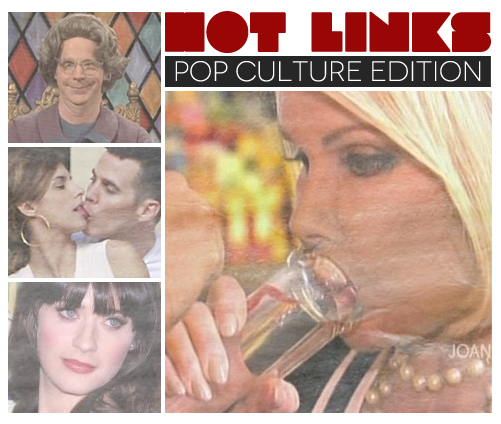 TLC takes on a new show full of wackos: Preacher Wives* (via Jezebel)
We bet the cast from Preacher Wives are the same people who said they won't shop at JC Penney anymore if Ellen is their spokesperson (via HuffPost) Sidenote: it's probably best that we all not shop at JC Penney.
While Ellen takes a hit, Joan Rivers hits the bong (via Jezebel)
Can we get a special round of applause for LMFAO and Snoop-a-Loop for selling out to sing on Paris Hilton's upcoming album? (via ONTD) Snoop,  get out while you still can!  Go blaze with Joan Rivers—do what you do best!
The worst rebound ever: George Clooney to Steve-O. That's so bad that it's like rebounding from George Clooney to Steve-O. There is literally nothing worse. (via yeeeah!)
Artists who need to go back to the studio and stop f—ing around:
Mariah Carey and Katy Perry possible new hosts on the X Factor USA (via stv)
Lady Gaga opens new restaurant (via ABC News)
Kanye monologue-ing his way to the Middle East in new short film (via Pitchfork)
Zooey Deschael ranked most desirable woman for British men. It's truly shocking that they all lust after a pale brunette. (via MTV)
SXSW announces lineup (via DEADLINE)
Ru Paul in 1979.  The photographer must have said, "Now, give me a saucy, T-Rex… Perfect." (via Vulture)
Tags:
Hot Links