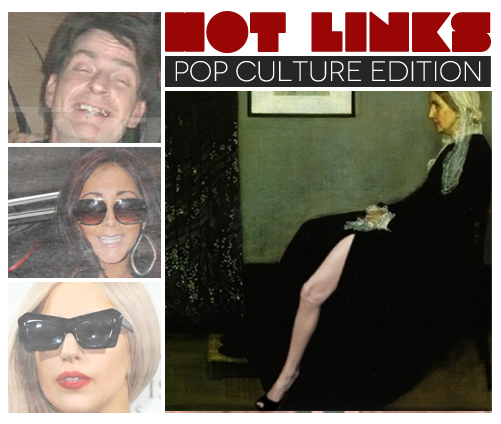 Charlie Sheen (TMZ.com), Snooki (bauergriffinlonline.com),
Lady Gaga (Andrew H. Walker/WireImage)
________________________________________________________

After the Oscars, Angelina Jolie's right leg started a twitter.
We think the publicity got to its head. (via Daily Herald) @AngiesRightLeg: http://yfrog.com/mn26xtlj
And now, folks are starting to get legbombed on Pinterest: (via Pinterest)
And the award for best legbombing photos go to…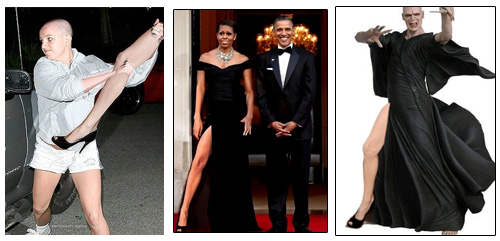 But Bill O'Reilly is looking at her arms, 'cause the woman needs a cheeseburger. Or 4. (via Styleite)
Cryptic Whitney Houston-related greeting card warning banned from the shelves at Target (via TMZ)
Snooks got a meatball in the oven (via HuffPo)
Robert California leaves "The Office" (via FLAVORWIRE)
In other news no one cares about, Fiona Apple tickets going for almost 2 grand by the 4 pack (via Refinery 29)
Two jaded former sitcom stars form another bad sitcom. Brett Butler and Charlie Sheen, please go and be vegan farmers in Colorado, or something.   Enough is enough.  (via Vulture)
 Fashion fails of the people of Wal-Mart, set to the soothing sounds of LMFAO. This is what nightmares are made of.  (via HuffPost)
_____________________________
In concerning news, Beyonce, Gwyneth, Cameron, and Reese may be in a movie musical together (via Fashionista)
I thought you said you were tired of the limelight, Bristol! (via InsideTV)
"The Carrie Diaries," a CW show with young versions of "Sex and the City" characters, has cast Carrie and is now officially set to ruin the franchise. Think "Saved by the Bell: The College Years." (via Fashionista)
As if  Oprah needed her face on another good cause—Gaga and Oprah appear in Boston for Born this Way Foundation (via Rolling Stone)
There was a shooting outside the house of Rick Ross. Well, one of his houses. Don't worry, he doesn't actually live there anymore. Phew. (via Vulture)
---

Caroline Cullen is currently obsessed with Dirty Shirleys, Pauly D's pecks, and Gordon Ramsay's Kitchen Nightmares on BBC.
All author posts