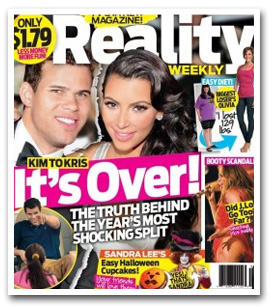 In an era of when the documented lives of pregnant teen moms, the Kardashians, and the housewives are filling up the DVRs of TV addicts all across the nation,  perhaps there's no better time than now for the launch of  Reality Weekly magazine, a new title from American Media Inc (AMI) that focuses on the life and times of reality stars.
WWD reports that the weekly magazine went on sale this week for a low price of $1.79. The newsstand price is $2 cheaper than other American Media Inc. publications such as Star, National Enquirer and OK.
AMI's CEO David Pecker reveals that after conducting about 40 different research studies, $1.79 is a widely accepted price—in other words, the company expects the magazine to sell a lot of issues.
Gracing the first cover of the uncensored glossy is of course the Queen Bee of reality TV, Kim Kardashian and the seemingly never-ending coverage on her love life, or lack of.
In addition to juicy news that cannot be found on TV or on the web, the magazine will have a weekly column from former New York Post columnist and former reality star, Victoria Gotti, contributions from Simon Cowell, and exclusive goodies from West Coast editor Omarosa.
What do you guys think? Is Reality Weekly a new low for journalism?  Or does it actually have informative pop culture coverage and commentary?