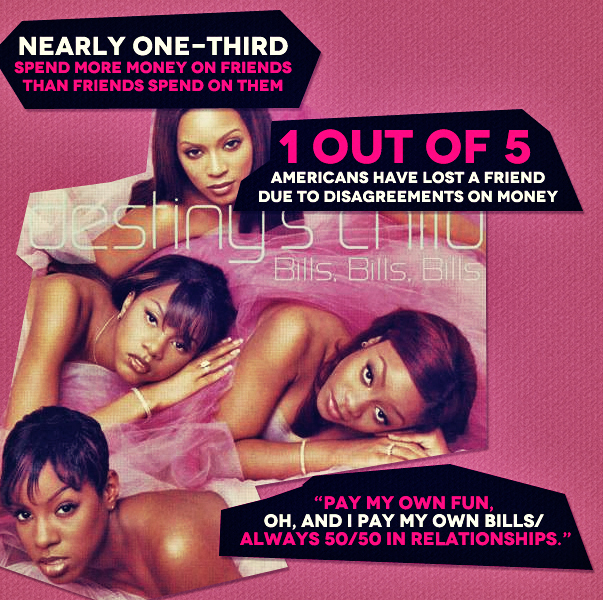 A recent survey conducted by Harris Interactive on behalf of CouponCabin.com reveals that money ruins friendships and can affect our social lives.
According to the survey, 1 out of 5 Americans have lost a friend due to disagreements on money and 37% of 18 to 34-year-olds have declined being in a wedding party due to the expense.
Though the survey reveals a few surprising results, Destiny's Child already beat them to the punch line.
The results, which strangely sound like a mashup between Destiny's Child's "Bills Bills Bills" and "Jumpin' Jumpin" can be found below, in the words of Destiny's Child.
Drop a beat.
Survey: Women don't want to date unemployed men.
Destiny's Child in their own words: "You triflin', good for nothing type of brother/Silly me, why haven't I found another/A baller, when times get hard, I need someone to help me out Instead of a scrub like you, who don't know what a man's about."
Survey: Friends who take money from us won't pay us back.
Destiny's Child in their own words: "Now you've been maxing out my card/Gave me bad credit, buyin' me gifts with my own ends/Haven't paid the first bill/But instead you're headin' to the mall/Goin' on shopping sprees/Perpetrating to your friends like you be ballin'."
Survey: The economy isn't making it any easier for us to maintain relationships.
Destiny's Child in their own words: "Pay my own fun, oh, and I pay my own bills/ Always 50/50 in relationships"
Survey: We feel we need to keep up with our friends when we go out.
Destiny's Child in their own words: "You know you've got the right to get your party on /so get your hair cut, And your car washed too/ Lookin' like a star in your Armani suit."
We think the survey teaches us that in order to keep our friendships going, we should profit our own dollas, so we can go to the club when it's jumpin' and pay our own bills bills bills.
Do you have any triflin' brothas in your life or are you straight ballin'?
---

Caroline Cullen is currently obsessed with Dirty Shirleys, Pauly D's pecks, and Gordon Ramsay's Kitchen Nightmares on BBC.
All author posts