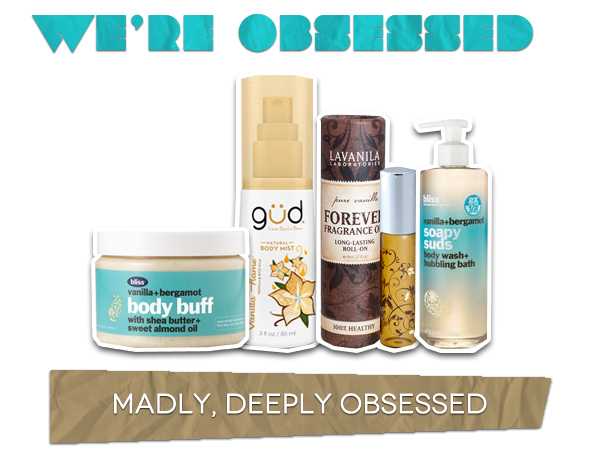 Maybe it's becoming a cross addiction, but I don't care. Since returning home from an intensive, four-month institutional workout, I have become obsessed with one specific scent.
Vanilla.
And as long as I stay away from the extract, I think it's okay.
Vanilla has long been touted as a mood soother, and many studies suggest that its aroma can ease anxiety and stress. This is most definitely in line with my experience, and I feel absolutely more at ease when I get my fix of the following:
These have been my shower-time staples (as well as helpful depression-fighters) for years now. I love starting my day off with this duo—especially the body wash, which is super foamy, heavily scented, and leaves my skin insanely soft and smelling sweet.
I graduated from the Coconut Vanilla Oil to this, as it's just more…well…vanilla-y. Plus, it contains heliotrope—a vanilla scented flower that has been shown to produce a calming effect on the nervous system. I keep it in my pocket for quick whiffs when I'm feeling fussy.
Everything from this super affordable line, by the makers of Burt's Bees, smells amazing. I'm particularly obsessed with the body mist, because it is fragrant yet light, and fits perfectly in my purse. It will be perfect for quick pick-me-up spritzes this summer.
So there you have it—my current aromatic intoxicants.
What about you, dear readers? Are you obsessed with any mood-improving scents?
---

Susan is a freelance writer, born and raised in NYC and currently based in Brooklyn. She's the senior beauty editor for Meets Obsession, and also writes for online publications such as Mamasarollingstone.com, TueNight.com.
and The Huffington Post. Susan had a serious candle hoarding issue that she has no plans to address. She's currently obsessed with Marc Jacobs' new beauty line, her black Zara moto jacket, and Aaron Paul.
All author posts