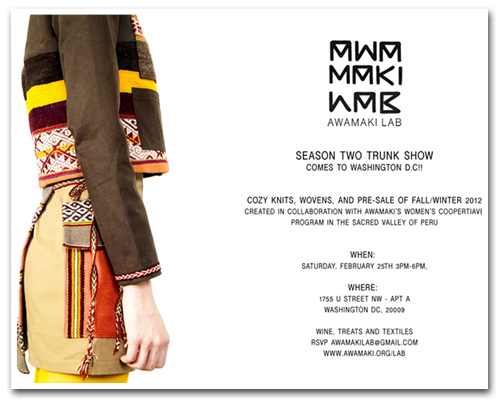 If you've been paying attention to the fashion trends lately, then you'll know that this season is all about tribal prints.
And if you're in DC, you can spend your day in tribal-fashion-heaven by attending Awamaki Lab's trunk show. You'll be able to shop from authentic cozy knits made from the Awamaki's Women's Cooperative Program in the Sacred Valley of Peru while learning more about the program.
Wine will be served as well to quench your thirst.
The Awamaki Lab is a four-month fashion design residency that gives young designers the opportunity to develop a capsule collection in partnership with Awamaki and its weavers' association.
The goal of Awamaki Lab is to create value-added channels of growth for the Awamaki Weaving Project, provide economic opportunities to women in the district of Ollantaytambo, Peru, and demonstrate the innovative potential of traditional weavings.
So, this Saturday, skip the chain boutiques and add something different and authentic to your wardrobe while supporting a worthy cause. See you there!
Details:
Saturday, February 25th
1755  U Street, Apt. A
Washington DC, 20009
RSVP at awamakilab@gmail.com