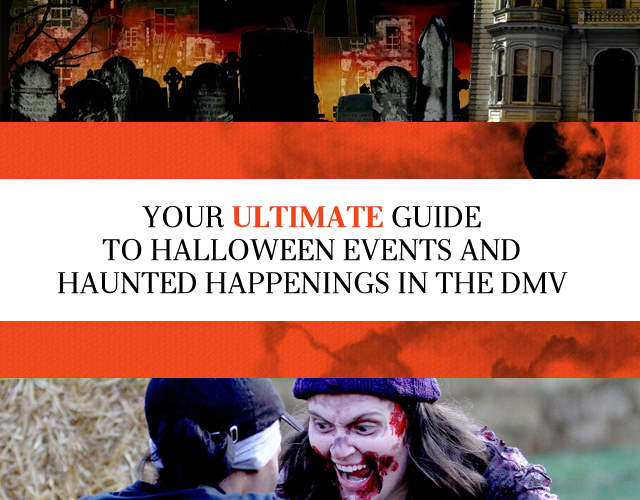 Front yards are covered in spiderwebs, and candy corn colored decorations are lining both home and store front windows. Yes, the Halloween season is upon us. Sometimes finding the best things, the strangest things, or the coolest things can be difficult. But trust us, the DMV has got something a little spooky for everyone. And we're here to help you get scared, get pumped, get dancing and get dressed up. [divider]

For the Zombie Lover:
Let's face it, the best part of Halloween is the adrenaline rush. If you're looking for a fix, Maryland's Field of Screams is the way to go. Zombie lovers will get a thrill from Paintball Apocalypse. Live out your Zombie Survival Guide skills by riding through infested fields on a double-decker cart, with nothing but glow in the dark paintballs to protect you against the onslaught of attacking zombies. If you survive the apocalypse there's other frightening things to venture through including the Trail of Terror. Field of Screams is open every Friday and Saturday (and certain Sundays and Thursdays) until November 3. Plus it's open for Halloween night- that beats handing out candy! [divider]

For the Film Fanatic:
If scary movies are what your sweet tooth is craving, AFI Silver Theatre in Silver Spring is showing several horror movies each night from now through Halloween. My choice movie to make it to: the 1922 silent movie classic Nosferatu, A Symphony of Horror. Celebrate the film's 90th anniversary with some sound- Not So Silent Cinema, a musical orchestra project by Brendan Cooney, performs a melody of mashed up music alongside the movie. This is one of many stops on Not So Silent Cinema's Nosferatu2012-Halloween Tour throughout the east coast. [divider]

For the Queers:
Ladies should check out the final installment of the Sunday afternoon OverEasy tea dance. As the tagline suggests, Sunday's just got a whole spookier. Presented by local blog, Where The Girls Go & dj vANNIEty kills, this Halloween edition– Scared Straight– promises a costume contest (winner gets free drinks), free candy, and two guest DJs Mim, and Junebullet. October 28 3-8pm at Dodge City.
Mourning the loss of your trick-or-treating years? Well, DC DJ favorites Shea Van Horn and Matt Bailer are handing out a very special treat: an All Hallows Eve edition of Mixtape. The boys are taking over Howard Theater once again. And if their four year anniversary was a preview of what to expect, then it's sure to be a packed dance floor with great tunes. Just don't be the kid who forgets their costume. The party runs from 10 til 2am. [divider]

For the Dance-a-holic:
If dancing is how you choose to celebrate the creepiest holiday of the year, go big with Brightest Young Things. They're taking over Sphinx Club on the night of the October 26 to bring you Temple of Doom! A Halloween shindig that promises live burlesque, a hypnotist, free zombie make-overs, and quite possibly the most terrifying of them all: Spooky Scareoke. But what about the dancing? Nouveau Riche and Sinister Sound Set will be DJing, and who can beat mummy go-go dancers, and free decoder rings! Friday 8 to 1am.
Alternatively, Little Miss Whiskeys will also be brewing up a Costume only dance party for Saturday October 27. [divider]

For the Athlete:
This Halloween weekend Baltimore hosts a special 5k race, ripe with horrors: Run for Your Lives – the first interactive zombie-infested obstacle race. Yes, competing in this 5k will entail running from zombies who are trying to eat your brains (or if you want to get more literal, your health flags). Run for Your Lives offers multiple routes, each filled with man-made and natural obstacles. This race may be happening throughout the country, but ours is the only one perfectly timed for Halloween. And best of all, anyone can do it! "We have hard-core marathoners, first time runners, and zombie fans," Olivia Orth, PR Coordinator for RFYL told Meets Obsession. "It is a fun way to experience a 5k. People can enjoy local bands, a DJ, vendors, food, and camping." But Saturday is already sold out so hurry and sign up. Registration can be found online. [divider]

For the Gallerinas & Art Enthusiasts:
Looking for something a bit more highbrow?
DC's Transformer Gallery's current fall exhibit — Broke People's Baroque People's Theater: Flat Busted Wig Beauty Window Fatale — is an art show from an LA-collective, My Barbarian.  Designed for Transformer, the show consists of a series of performances, texts, installations and videos. The collective combines elements ranging from world theater to camp drag. For this exhibit, some of their creations take a walk on the creepier side of art, and the wig display is sure to drop a few jaws. [divider]
And as they say in Halloween III: Oh by the way, Happy Halloween.