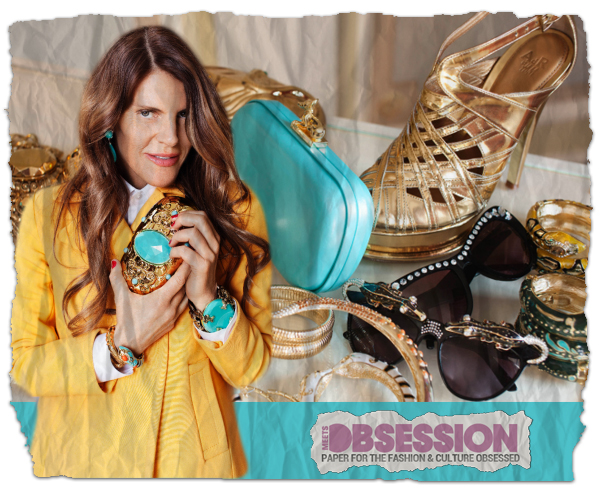 Photos courtesy of H&M
Anna Dello Russo is a bird of another color, but it depends on what day you see her.
The Vogue Japan editor-at-large is usually caught on the pavements of fashion week wearing all sorts of eclectic pieces from ostrich feathers to glittery cherry headpieces. This is not surprising as she has an apartment just for her clothes.
But ADR claims her true love is accessories, which is fitting because Dello Russo has just unveiled her latest jewelry collaboration with Swedish retail giant H&M.
The Dello Russo and H&M jewelry collection, which will go on sale in H&M stores worldwide on October 4th, will consist of approximately 50 items, including shoes, handbags, jewelry and sunglasses.
Each piece is incredibly opulent with the typical vibrancy that Dello Russo exudes.
And in true H&M fashion, prices for pieces within the collection will be affordable for most, with earrings retailing at only $26 to shoes retailing at $196.
Not only is Dello Russo Meets Obsession's "Most Intriguing" in fashion, but from the looks of it, she's also a talented accessories designers.
So ladies, prepare yourselves for the H&M madness come October 4th.
---

Bridget is a writer, stylist, and vintage clothing dealer based in Kennett Square, Pennsylvania. Bridget enjoys spending time with her boyfriend and guinea pig, and in her spare time sells vintage at local flea markets . Bridget is currently obsessed with Zooey Deschanel's wardrobe on New Girl, Moroccan food, and microcars.
All author posts